Marcelino Galvao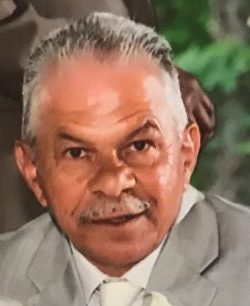 Marcelino Galvao, beloved husband of 46 years to Maria Galvao and loving father to Marcel, Elvis, Michelle and Nislo and his wife Linesary, sadly passed away on December 30th, 2020.
He was a cherished grandfather ("Papa") of Tatiana, Marcel, Jr., Mikaura, Jenelle, Manny, Marcelino, Jyshele, Jay, Baby J, Niahl, Nalani and Naila. Brother of Gualdina Lopes, Alberto Rosa, Luiza Lopes DoCanto, Olivia Mendes Fonseca and the late Venancio Gomes, Jose Gomes and Isabel Mendes. Marcelino is also survived by many extended family and close friends.
Marcelino was born and raised in Mosteiro, Cape Verde. He migrated to the United States in the early 1960s where he settled in Boston. He met and married the love of his life Maria Barbosa. They started a family and later put down roots in Braintree where they raised their four children. He was a machinist at a plastic manufacturing plant where he was a dedicated employee for over 30 years.
Marcelino was a devoted Catholic and was very proud of his Cape Verdean heritage. Most of all Marcelino loved spending time with his family and friends who were the cornerstone of his life. He will be missed by all who had the pleasure to have known him.
Per family request, all services are private. However, Funeral Mass can be viewed via https://vimeo.com/500079210 on Friday, January 15th at 11AM.
Please keep family, relatives, and friends in your prayers. Flowers may be sent to: Dolan funeral Home, 1140 Washington Street, Dorchester Lower Mills.