Barry G. Llewellyn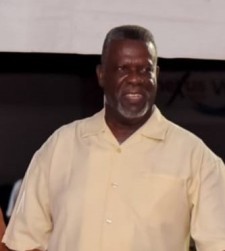 Barry G Llewellyn of Dorchester passed away on Sunday, January 3, 2021.
After a brief courageous battle with heart disease, Barry went home to his eternal resting place. Barry was born and raised in St. Catherine Jamaica. He served in the Jamaica constable force before migrating to Boston.
He was one of six children born to the late Owen and Aileen Llewellyn and was the beloved husband of Verna Llewellyn for over 37 years. Barry will forever be remembered by his devoted brothers Linton, and Cliven Llewellyn, loving sisters Lorna and Maureen, beloved stepchildren Donovan Lucas, Jennifer James, Michelle Stainrod, Carolyn Myrie, Suzette Collins, Children-Clifford, Jason, Kevin, Sherianne, and Marianne Llewellyn.
Treasured grandchildren Shaniquia Williams, Dontia, and Brittney Lucas, Jodi Raspanti and her husband Matthew, Austin James, Sabrina and Michael Johnson, Nia, Nadia and Naomi Myrie, Jessica Collins, and Colin Peeples. Plus five others. Great-grand-children, Jordon, Ian, Wyatt, and Mason Plus three others.  Stepdaughter in law-Debra, stepson in Law- Huntley.
Aunts and uncles, plus countless other friends and family who were blessed to know him.
Barry enjoys hosting large cookouts, playing reggae music, laughing, being with his family, having fun with friends

Barry touched the lives of many people with his contagious smile and generosity. He maintained his trademark sense of humor all the way to the end.
Friends and family are invited to attend a viewing on Monday, January 11 from 10am- 11am at Dolan Funeral Home 1140 Washington Street, DORCHESTER LOWER MILLS. A private family service will be held followed by interment.