Winston Stephen Marchan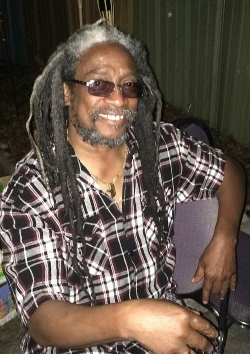 Winston Stephen Marchan was born in Whiteland, Trinidad on March 30, 1955 to Mazie and the late Harry Marchan.
Stephen emigrated to the United States of America in 1979. Shortly after arriving he enlisted in the Army. First stationed in Georgia then finally in South Korea. He was honorably discharged in August 1984 with the rank of Sergeant. While in Korea, he received many achievement awards for outstanding work on the battle vehicles.
He was an A student all through elementary school and his love for learning continued through adulthood. While enlisted in the army he took a test for his GED. The officials swore that he cheated on the test because of his high score so he had to retake it in a room surrounded by officials. To everyone's surprise (except Stephen's) he got an even higher score the second time around.
Stephen followed after his oldest brother running track & field for Texaco. He competed in the last Southern Games at Guaracara Park, South Trinidad where he was awarded a bronze medal in the decathlon. He was an all-round sportsman and participated in soccer and cricket. He loved hanging out with the guys and give "fatigue". In Trinidad his nickname was "Payshay" and in Boston it was "Soca Dog".
Stephen is survived by his mother Mazie Marchan, his wife Violeta, sons Ernesto and Winston Marchan, Jr; DaughterAyoka, Grandchildren – Deji, Tai, Jahsim, Quatashia, Tydashia, Ma'Nya, Kayland, Daquavion, Desmond, Kaiden, Kaison, Kyrie; Great Grandchild- Nalani; Brothers – Herman, Roger, Ronald; Sister– Pat;Sister in laws – Gloria Barber, Lancie and Jennifer; Nieces and Nephews– Abeni, Jade, Natalya, Katty, Liselle, Devon, Rakaiyyah, Kia, Abby, Addy, Kamari, Sanai. Host of cousins in Trinidad.
Stephen was the last sibling to leave Trinidad for the United States of America. While he was at home he took care of his other siblings like his older brother did while his parents were in the USA.
Once he returned to Boston, Stephen would move on to Ironworkers Union #7 and Baycove Senior Center where he was as a driver. He was a member of Unity Sports and Cultural Center for 30 plus years and also member of Soca and Associates for 25+ years (even traveling to Toronto, Canada yearly to compete in All Fours card competitions).
Stephen had many hobbies, he enjoyed especially fishing with his brothers, playing and listening to music, playing cricket and hanging out with friends. Some of his favorite things/jokes to say where " you can't be late twice"; "my feet is my carriage" and "you can't embarrass me because I don't get embarrassed". When he wanted to talk in code would use words like "bram, bram, bram".
Stephen was always lively, happy and positive. He will be truly missed.
Visiting Hours in the Dolan Funeral Home, 1140 Washington Street, DORCHESTER LOWER MILLS, Thursday, December 30, 9-11 am.
Funeral Service and Interment Private.