Ruby-Ann Rickerson-Young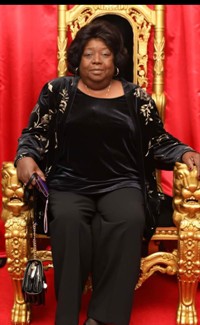 Ruby-Ann Rickerson-Young (Durant) of Dorchester passed away on December 8, 2020. Beloved wife of the late John Young. Loving mother of Blake Rickerson (Toni) of Peabody, Vivian Rickerson-Holliday (Mayfield) of Mattapan, Rick Rickerson of Everett, Mario Rickerson (Michelle) of Boston and Shawn Young of Dorchester. Cherished grandmother of kevin Sr., Ricky, Eric, Andre and Malaysia. Great grandmother of Kevin Jr., Kyle and Keivan. Ruby also leaves behind many extended family and friends.
Ruby was born in Fayetteville, North Carolina and came to Boston at the age of three. While continuing her education at Cambridge College and Suffolk University, She earned two master's degrees. She had many passions in life including fishing, shopping, bowling, playing card, dancing and the casino. Ruby had a special love for her dog Buster. Most of all Ruby loved to cook and entertain for her family who were truly the most important part of her life. She will be missed by all who had the pleasure to have known and loved her.
Visitation will be on Friday December 18th 10:00-11:00am in the Dolan Funeral Home, 1140 Washington Street, Dorchester Lower Mills. Private service to follow at 11:00am. Interment in Fairview Cemetery, Boston.