Reginald "Norman" Knight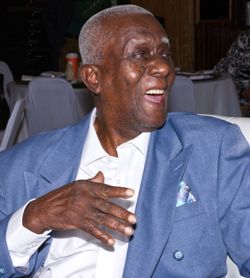 Reginald "Norman" Knight of Dorchester passed away on December 11, 2020. He was born on October 19, 1929 to Elsie Knight Watson and Hugh Richards, in St. James, Barbados W.I. He was the eldest of four siblings.
Church was always a large part of Norman's life. He was a member of St. John the Baptist Church in Holders Hill. It was there that he served as an acolyte, and could be found proudly swinging incense whilst catching the eye of many young ladies. Norman also attended the Good Shepherd Boy's School. Upon leaving school, he worked as Seaman, which gave him the opportunity to travel to numerous islands throughout the Caribbean. He also worked as a Maître D at the Sandpiper Hotel and Coral Reef Club in Barbados, before migrating to Boston, MA in the early 1970s. Here he proudly dedicated 25 years to the Marriott Corporation, again as Maître D and as Banquet Captain. Norman also continued his dedication to church, as a member of The Church of The Holy Spirit for over 30 years where he served as head usher for many of those years.
After retirement, Norman kept busy as ever! He took daily walks, hopped on the T for rides to the Haymarket, and other times just for fun. One of the great joys of his life was caring for his grandchildren who were a part of his daily life. Norman was known for always giving a helping hand and rarely sitting down. He could be found at many family events, right behind the buffet table, serving food and questioning people who came up for seconds. Norman was full of life and laughter and known in his younger years as a skillful dancer. But if there's one thing everyone could agree on, it's Norman's timeliness. He was always ready several hours before he was expected to be and found others to be late if they dare show up on time. Norman's kind heart, laughter, and generosity will be missed greatly.
He is preceded by a brother and sister who passed away in their youth, his younger sister Clotilde Dear, and his first wife Hilda Elaine Knight. He is survived by his former wife May Elise Knight, his children Owen, Lorraine, Arlene, Mark (Toni), and Michelle (Ezra). His grandchildren Natashia, Ishla, Jason, Brandon, Adrian, Edwina, Henroy, Mark Jr, Jocelyn, Andrew, Marquis, Phinix, and Gabrielle. His nephews Hugh and Anthony, along with 12 Great Grandchildren, 1 great great- grandchild, his caregiver Pamela and a host of close friends and family.
Relatives and friends are invited to attend visitation on Friday December 18, 2020 9:00am-10:00am in the Dolan Funeral Home, 460 Granite Avenue, East Milton Square. A funeral service will follow at 10am in the Funeral home. Interment in Fairview Cemetery, Boston.