Jean H. Gray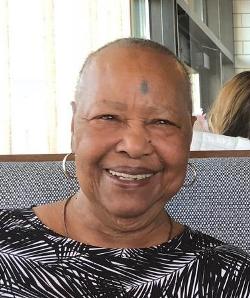 Jean Harriet Gray was born in Memphis, Tennessee on March 11, 1939 to Noble and Lillie Mae (Powell) Bowles. She was the youngest of three girls and baby sister to Novella (Bowles) Taylor and Mable (Bowles) Jenkins. As a young child, their Mama moved Jean and her siblings to Washington, D.C., where they settled into a comfortable life bustling with activity. She moved to Boston in the seventh grade and was lovingly raised and cared for by her Aunt Serena "Tee Tee" (Powell) and James Smith; yet, as was the case with her Uncle Bartholomew "Bear" Powell, Jean stayed connected with her loved ones and always had a strong family bond, despite the miles of road between them. She found God at a young age and accepted His will as the vision for her life. At Girls High School, Jean was dubbed "the lucky owner of a pretty smile", and it also is from GHS that she graduated in 1957. Her yearbook reveals that baseball and basketball were her favorite sports (who knew!), sewing was her hobby (first winner of Project Runway), and she planned to marry within ten years of graduating (twice she was a beautiful bride). Jean's first courtships may not have stayed the course, but in 1965 she met and soon married Glenwood Gray, and they remained devoted, adoring and close friends until his passing in 2018. "Gray" was always so tender with her; they had an endearing relationship and were fond of each other for a lifetime. As a faith-driven woman, Jean lived in God's love and was devoted to reinforcing loving relationships. With marriage, owning her own home was her secret desire, and with the little she had and despite amazing odds, she achieved that goal with flying colors. Over the years, Jean was employed, most notably, by Raytheon, Kemper and Arbella, but she ultimately retired from the latter company in 2001 as a revered employee, admired and adored by all. On December 8, 2020, at the age of 81, Jean peacefully entered her eternal rest on the wings of angels and with the love of the Lord in her heart, her girls, Sharon and Stacey, right by her side. Her life was a living testament of a favorite Bible verse, John 15:12 – This is my commandment, that you love one another as I have loved you.
Ma, through the gospel we write your story and proclaim, "well done good and faithful servant!" You are our girl, our sunshine, and our touch of love. As our little Boston family's matriarch, you guided us, you supported us, and you protected us. You taught us how a touch of love can change and save lives. We are grateful for your guidance and thankful for you, and we know that we are blessed because of you. You were a great mother and you lived a life to be proud of and celebrated. In your twilight years we held you tightly and loved you most. Owing to your teachings we will continue to walk by faith for the rest of our days. Know that we will be okay because your love is eternal. Although we prepare for the holiest of days with heavy hearts, we have cherished memories of always celebrating Christ's birth together, and we will continue to love the season as you did. Thank you, God, for cradling our Dear Mother during this time of year. We give You the honor and the praise, and we will always carry her footprints along with Yours in our hearts. Jean, we will forever remember your touch of love.
This is my story, this is my song,
Praising my Savior, all the day long.
Let the church say Amen.
A devoted elder and member of Concord Baptist Church in Boston, Massachusetts for almost 70 years, Jean leaves to cherish her sweet memory a dear sister – Novella (Bowles) Taylor (Maryland); loving children – Sharon Radcliffe (Boston), Stacey Radcliffe (Virginia) and Sylvia (Gray) Brown (Georgia); devoted Sisters in Law – Mary (Gray) Murphy, Frances (Gray) Blue, Caroline (Stevens) Gray, and Cassandra (Mack) Gray; adoring nieces and nephews – Dandria Bowles (Boston), Anthony Taylor (Maryland), Arlene (Taylor) Johnson (Maryland), Rutherford Taylor (Maryland), Vincent Taylor (Maryland), Selena (Gray) Mayo, and Alicia Moody (Georgia), among many others; caring grandchildren – Lakesha Gray (Virginia), Kimberly Brown (Georgia), Antoinette Gray (Boston), Jamal Bond (Boston), Janaiya Green (Boston), Jekaiya Gray (Boston) and Daniel Lestrade, Jr. (Boston); honorary family – Turk and Henrietta Gerald & Family alongside the Burke Family (Boston), and also Katie Days & Family (Boston), Leona Diggs & Family (Boston), and Rose Marie Turner & Family; loyal granddogs – Koda (Boston) and Sienna (Virginia); and a host of other treasured family and friends.
Visiting hours at Dolan Funeral Home, 1140 Washington Street, DORCHESTER LOWER MILLS, Monday December 14, 9-11 AM.
Funeral Service and Interment Private.