Helen F. (Karpowich) Bibinski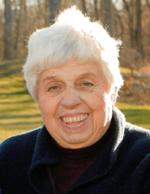 Helen F. (Karpowich) Bibinski, 92, of Milton, December 20, 2020.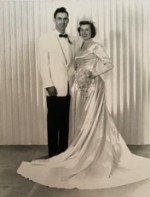 On May 2, 1954 she married Leo, the love of her life, and they had five wonderful children – Carol, Paul, Elaine, Joe and John. Outside of work, Helen and Leo loved to spend time on Cape Cod. They bought a cottage in West Dennis, and on an extra lot Leo built a new cottage with his own two hands. Eventually, they were blessed with 11 grandchildren, and the cottage was a wonderful place for many family gatherings. Helen and Leo asked their grandkids to bring friends as much as possible; one year they had 8 college kids at the house! Helen convinced Leo to take a vacation cruise. They had been on over 20 cruises to places like Alaska, Hawaii, and Venezuela.
Helen was the beloved wife of the late Leo C. Bibinski. Devoted mother of Carol B. Wells and her husband John of Weston, MA; Paul J. Bibinski and his wife Laurie of Palmyra, PA; Elaine M. Cattel and her husband Jim of Leland, NC; Joseph L. Bibinski and his wife Janet of Westford, MA; and John R. Bibinski and his wife Kathryn of Marlborough, MA. Also survived by 11 grandchildren – Dennis Cattel and his wife Margaret of Wilmington, NC, Greg Cattel and his wife Stacey of New York City, Mary Wells of Brookline, Thomas Wells of Portland, ME, Stephen Bibinski of Pepperell, Michael Bibinski of Ventura, CA, Susan and Katie Bibinski of Palmyra, PA, and Christina, Diana and Melissa Bibinski of Marlborough, also survived by 1 great granddaughter Julia Cattel.
A Mass of Christian Burial will be celebrated in Saint Gregory's Church, 2215 Dorchester Avenue, Dorchester, Wednesday, December 23, at 10:00 AM. Visiting hours at Dolan Funeral Home, 460 Granite Avenue, EAST MILTON SQUARE, Tuesday, 4-8 PM. Interment Blue Hill Cemetery, Braintree.
In lieu of flowers donations in Helen's memory may be sent to Sisters of Our Lady of Mercy, 55 Loon Pond Rd, Lakeville, MA 02347.
EULOGY of HELEN BIBINSKI
"HAPPY NOW's MAKE HAPPY WAS'!"
………This was a favorite saying of my mother's……….
To understand her, you had to know where she came from…
Two immigrant uneducated parents from Poland; mother only went to 3rd grade.
Oldest of 4, only girl with 3 brothers.
Became like a surrogate parent from an early age, so had to learn survivor skills early.
Responsibilities overtook her young, formative years; she needed to know + be in charge.
She grew up as a Depression child
Her very 1st pair of new shoes was at age 13!
She learned to manage money well into her future. My mother was the "Financial Brains" for Babin Machine. Dad called her the "Boss"! Together , they made a great Team!
Her favorite show was CNBC "Mad Money" with Jim Cramer, whom she endearingly called, "Big Mouth". She enjoyed learning about new companies; she never liked soap operas and gossip.
My mother flourished in "Couponology 501" (coupon cutting). It was a numbers game with her. Many times, she would compare receipts to see who saved the most money. A few times, she won when the Cashiers had to give back money at the register!
Playing cards were another significant pastime . Pinochle and Cribbage were her favorites, playing right up to the end of her life. She taught her grandchildren to play over the summer; there was always a WELCOME SIGN hanging at the cottage!
My mother had a remarkable and uncanny knack for remembering birthdays. You just had to tell her 1x and she would permanently remember it! Many people were in awe when she would rattle off their whole family's birthdays!
My mother loved going to FOXWOODS Bingo and Keno. #2 was a very lucky number for her. One day , she decided to play all 2's on Keno. We were ready to leave, when she beckoned me to come over….I thought something had happened to her. Instead, she pointed to the slot machine -it was flashing "CALL ATTENDANT!", "JACKPOT", "$12,500"! My mother chose to take the cash , not a check. Then, proceeded to shuffle out of the Casino with her walker, big wad of money, and a Security Escort to her van!
She loved the Get-Away! No complaints of any physical ailments when she was there. We travelled there every month for 1 ½ years.
"HAPPY NOW's MAKE HAPPY WAS'!"
My mother loved CURRENT EVENTS and reading the Boston Globe. Interesting articles would be highlighted , then she would say, "Hey, read this!" It would lead to many interesting discussions. She always made me look good…well informed!.
My mother loved to dance. She taught many cousins and her 3 brothers. On one of her most recent phone calls from her brother, Frank……he reminisced….
"Helen taught me to dance when I was 13 years old at Roseland's Ballroom in Boston. In Alabama, when I entered the Air Force, there was a new graduation class of Air Force Nurses. At the Saturday Social, 2 nurses couldn't dance and the 3rd nurse could, who turned out to become my wife, Aunt Isabelle. They called me "Twinkle Toes" because of my superb dancing skills! I owe a lot to my sister, Helen.
"HAPPY NOW's MAKE HAPPY WAS' !"
My mother always encouraged us to travel. "Go see the world..grab the adventure!" My mother and father became very efficient travelers, experiencing over 20 intercontinental cruises! Bell boys always went looking for the 2nd suitcase, but there was never one. "They liked to travel Light!"
"HAPPY NOW's MAKE HAPPY WAS'!"
Regarding Polish Traditions, the Bulka recipe, over 100 years old, has been refined and perfected by her granddaughter, Susan, who will carry on the family tradition! Babje is very proud of her! My mother was well known for her famous Cole Slaw. It was her father's own recipe when her worked at the S & S Deli in Inman Square. John and I had lunch there when we were dating and he remarked, "This coleslaw tastes like your mother's" and it was!
My mother loved the grandchildren's sporting events: Football, Baseball, Volleyball, Basketball. She was a dedicated cheerleader! She was able to attend Diana and Melissa's WPI Basketball game right to the end.
Well Dad, we said that we would take good care of Mom. I hope we passed the Test!
Thank you for all your Love and Inspiration!
Carol
KARPOWICH FAMILY HISTORY
Leonora (Louise) Sadowski did not know what day she was born on but only knew that it was around "harvest time." She therefore celebrated her birthday on October 15. She was born in 1894. We do not know the exact town, but it was around Vilna, Poland. She was the only person in her family to come to America. Boston, Massachusetts was her port of entry. The Klerowski family, Louise's cousins, sponsored her trip to America. She had an older sister, Victoria, and two younger brothers, Charles and Joseph.
When she arrived in America she boarded with Julia (Karpowich) Papalegis. That is how she met John Karpowich. John Karpowich was born on September 7, 1892 around Vilna, Poland, also. We do not know the exact town. John, his older brother, Walter, his sister, Julia, and younger brother, Thaddeus, also came to America. (Not all at the same time though.) John arrived in America on February 12, 1914; he was 22 years old. He came through Boston. Walter married Mary and they had two sons. Julia married Adam Papalegis and had 8 children. Their oldest, Stanley, and twin daughters all died of the influenza epidemic. Thaddeus married Irene and they had no children.
John Karpowich and Louise Sadowski were married on October 1, 1927 at St. Hedwig's Church in Cambridge. Before getting married, John Karpowich bought a three-family house at 43 Springfield Street in Somerville, Massachusetts. They lived on the third floor and moved to the second floor when Helen was around 12 years old. Helen Frances was born on September 18, 1928 at the Middlesex Hospital in Cambridge at the corner of 4th Street and Otis Street. Francis Michael was born on March 23, 1931 at home on Springfield Street.
John Martin was born on June 5, 1933 also at home on Springfield Street. Frederick Walter was born on March 30, 1935 at home on Springfield Street.
When Fred was 2 years old, Louise took a job working in Park Square cleaning marble floors in buildings. She worked from 6 P.M. to midnight. A neighbor told her about jobs that were available at the Cable Raincoat Company in East Boston. It was during World War II (1941) and the company made coats for the servicemen. Louise was afraid of losing her job in Park Square so she kept that job and also started working at Cable Raincoat. She worked two jobs for about four months and then dropped her job at Park Square. When the war ended, so did her job with Cable Raincoat. Aunt Julia (grandpa's sister) told Louise about work at Cambridge City Hospital. She worked there approximately 19 years in the laundry area. Her shift was from 7 A.M. to 3 P.M. John Karpowich worked at McLean Hospital in Boston when he first arrived. Helen remembers that his jobs almost always involved working with food. After the war he worked for the Work Progress Administration (W.P.A. – a government sponsored publics works program). Helen remembers him going to work with his lunch pail and coming home sometimes with apples that he had found while working. John started working at the S&S Deli in Inman Square as a dishwasher and then eventually as a cook. That's where the famous cole slaw recipe came from!!
John suffered from bleeding ulcers in the early 1950's. Eventually he had three-fourths of his stomach removed. His health was never right after that. Poor health caused him to stop work. He also had a glass eye for his right eye. Scarlet fever was to blame for the loss of his sight in that eye.
No English was spoken in the house until Helen attended kindergarten and learned English.
The Karpowich Family bought their first television in 1946. It was a combination 12 inch TV and record player for $600, which was a lot of money in those days. Helen remembers the two stations they were able to watch—Milton Bearle and Texaco Theatre. There was no family car until the boys got their license. John and Louise never drove a car. Helen was 21 years old when she got her license. Their first car was a used car that they had found in the newspaper.
Helen attended the Baxter School on Bolton Street in Somerville for kindergarten through 5th grade. For 6th grade she went to O. S. Knapp School in Somerville. Grades 7 thru 9 she was at Southern Junior High and then went on to Somerville High School, graduating in 1946. She worked starting at age 13 and continued working through high school. Her first job was at Massachusetts Eye & Ear as a ward helper. She also worked at the S&S Restaurant slicing meat and cleaning the meat case—for $.50 an hour! People needed meat coupons to purchase meat because it was during war time. Another place of employment was the Enterprise Store, a department store, where she worked in the children's department straightening shelves and helping customers. When she graduated high school, she applied for a job at AT&T because they needed workers. While she was hanging around waiting to hear from AT&T, her mother told her to get out and get a job. She applied for a job at Blue Cross and Blue Shield and was hired the next day. The job lasted 6 weeks because the job offer came through with AT&T. August 12, 1946 was her first day of work at the phone company as a long-distance operator working at Franklin Street in Boston from 1 to 9 P.M. Every Friday night she would rush out of work to get to Roseland State Ballroom for dancing, arriving at intermission.
The first call she "put through" was Edward Everett Horton, an actor. She moved to the Belmont office and switched to a regular operator. Later she applied for an opening at Harrison Avenue in Boston and transferred there. With her own desk, she worked with installations for commercial phone hook-ups.
When she left at the beginning of January 1955 to have a baby, Carol, she was bringing home $28 a week (after taxes). It was during the last 5 to 6 months at work that she started buying AT&T stock. When she left the company, she had 12 shares!
Helen first dated Leo Bibinski when she was 17. Leo was in the Army and then the Air Force Reserves, so they didn't date very much at first. In July of 1953 Leo asked Helen out for a date and she said that she couldn't because she was helping someone wallpaper. The place she was 4 wallpapering was close to where Leo lived; and not believing her, Leo arrived at the house to check up on her! They were married on May 2, 1954.
John Karpowich died on March 2, 1964 of a form of leukemia/cancer of the bone marrow. He is buried at St. Michael's. Louise Karpowich died on March 24, 1984 and is also buried at St. Michael's Cemetery in Mattapan/Roslindale, Massachusetts.