Faustino (Frank) Cimildoro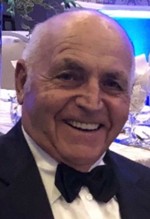 Faustino (Frank) Cimildoro, age 83 of Milton, passed away on Thursday December 17, 2020. He was the beloved husband of Giuseppina (La Vita) Cimildoro with whom he celebrated sixty-three years of marriage. He was pre-deceased by his son, Frank Cimildoro.

Faustino was born in Pietradefusi Avellino, Italy, on January 11, 1937. He was the loving son of the late Maria (Tozza) and Fioravanti Cimildoro. He was one of three brothers, the late Giuseppe Cimildoro of Stoughton, and survived by Angelo Cimildoro of Milton.

Faustino immigrated to the Unites States of America arriving on Christmas Eve. He met Giuseppina at the Park Street Train Station in the spring of 1956. They later married in October 1957. In the early years of their marriage they resided in East Boston where they welcomed their son, Frank. Faustino and Giuseppina settled in Milton in 1967 and later built their own home, which was his pride and joy.

Faustino worked for the Milton DPW for 44 years where he was well known for his strong work ethic and unwavering energy. He retired from the town in 2002. Faustino and members of his family established L&C Paving and he was known for paving driveways old school – by hand. He had a passion for making wine, canning tomatoes and gardening. Faustino and Giuseppina planted roots in Naples, Florida where they enjoyed many seasons with friends and family.

Faustino was also known as "Nonno" and is survived by his daughter-in-law, Judith (Hall) Cimildoro, and four grandchildren, Julie Feeney and her husband Patrick of Attleboro; Joseph Cimildoro and Lauren Gentile, and Jacquelyn Cimildoro, all of Milton; and Steven Cimildoro and his fiancé Stephanie Irvin of Revere. Faustino recently became the proud great grandfather of Francesca Juliet Feeney.

Faustino was a humble man who had strong family values and a large heart. He is also survived by several nieces, nephews and friends, all of whom he cherished dearly.
A Mass of Christian Burial will be celebrated in Saint Elizabeth Church, 350 Reedsdale Road, Monday Dec. 21 at 10:00 AM. Family and friends are cordially invited to attend. He will be laid to rest in the family mausoleum at the Cedar Grove Cemetery in Dorchester.