Colette Jean-Francois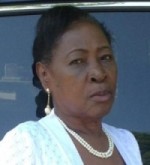 Colette Jean-Francois 83, a resident of Lawrence, MA passed away on Sunday November 29, 2020 at the Lawrence General Hospital. Retired from Swing Line Company. She was loved and supported by the Lawrence Community. She helped her Community by volunteering at Food Banks, Salvation Army. She loved to travel and had a keen eye for fashion.
Beloved wife of late Jean-Baptiste Jean-Francois. Devoted mother of: Jean Jeudy, Marie Carmel Jeudy, Guyard Jean-Francois and Marianne Jean-Francois Lissade. She left behind her Brother Renedger Saint Louis and family, Grand Children and Carla Jean Baptiste and family, Jessica Ramponeau and family, Jamalh Jeudy, Julian Lissade and Thalissa Jeudy and 2 great grandchildren children Nieces and nephews: Rommie Rabel Romain and family, Ruth Marie Rabel and family, Shirley Rabel and family, Ronald Rabel and family, Flavia Rabel and family and Reginalde Rabel and family.
Visiting hours in Dolan Funeral Home, 1140 Washington Street, DORCHESTER LOWER MILLS, Friday December 11, 3-7 pm. Funeral Mass and Interment private.