Bridget (Mahoney) Driscoll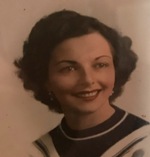 Bridget (Mahoney) Driscoll, 91, of Kenmare Co Kerry Ireland, Dorchester, Plymouth and Quincy, December 23, 2020.
Bridget was the beloved wife of the late John J. Driscoll, Jr.
Bridget is survived by her loving children and their spouses, Shawn and Mary Driscoll of Milton, Maureen and Kevin Coakley of Plymouth, Danny and Kim Driscoll of Quincy, and Kathleen and Peter Van der Graaf of Hudson, NH.  She was predeceased by her daughter Patricia Murphy and her husband Dennis.  She is survived by her seventeen grandchildren John, Kevin, Ryan, Shawn, Micaela, Thomas, Daniel, Robert, MaryKate, Patrick, Margaret, Jacqueline, Bridget, Lee, Reed, Johna and Kylie and was Great-Nana to Julie Ann, Evelyn, Riley, Abigail, Charlotte, Jack, Ryan and Gavin. Bridget is also survived by her beloved sister, Frances McKenna of Dorchester and her like-a-sister sister-in-law Ann Mahoney.  She was predeceased by her brothers John in Dorchester, and Geoffrey and sisters Margaret Downey and MaryAnn O'Sullivan in Ireland.  Bridget loved her husband's family as well and will be missed by Mary (Nick) Driscoll, Nora (Frank) Driscoll of Milton, Daniel Driscoll of Dorchester, Mary Driscoll Greene of Braintree, Michael and Margaret Driscoll Holland of Hanover, Joseph and Mary Driscoll, Kathleen Driscoll Hynes and Michael and Ann Driscoll Moran, all of Milton, and Patrick and Bernadette Driscoll of Dorchester.  She loved all her nieces and nephews of the Mahoney and Driscoll extended families.
Bridie was a lot of fun for her children and grandchildren all who spent time with her. Christmas Eve at her house was a cherished tradition for her children and grandchildren, and was full of good food, stories and lots of laughs. She will be missed.
Bridget's children would like to thank Mary O'Malley and Peg Ryan who took such good care of her in her last few years and became real friends. And, we would be remiss if we didn't acknowledge the superb and superbly kind care she received since her arrival at John Adams Nursing Care in February 2019.
Due to the current pandemic protocols for large gatherings, the Funeral Mass and burial be private. At a later date, the family will be having a remembrance celebrating her life for family and friends.
Contributions in Bridget's memory can be made to the John Adams RCF (Resident Council Fund/ActivitiesProgram) 211 Franklin Street, Quincy, MA 02169.