Barry Joseph Southworth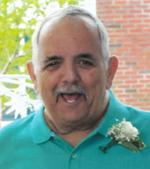 Barry Joseph Southworth, 71, of Mansfield passed away December 17, 2020.
Born and raised in Boston to Eunice Ohrt of Dorchester and the late Ralph J. Southworth. Barry was a Real Estate Investor and worked for Home Market Foods for 32 years. Barry loved going to concerts. He especially enjoyed traveling down to his home in Vero Beach, Florida for the past 23 years. Barry was an avid Boston Red Sox fan and long-time season ticket holder. Anyone that knew Barry would say he was always laughing, had an infectious smile and was truly a "Great" man.
Beloved husband to Gail (Cline) Southworth.  Loving father to Thomas Barbato (wife Ann) off Hanson, Sharon Magnuson of Plymouth, Barry J Southworth Jr. (Laura, partner) of Manchester, NH and step father to William Becksted (wife Katja), Genevieve Becksted-Muske (husband Shawn) and Jason Becksted (wife Brenda) all residing in Portsmouth, NH.  Grandfather to Jake, Alyssa, Trinity, Barry III, Kaitlyn, James, Sloan, Austin, Samantha and Timothy.  Brother of Kathleen Connell Southworth, William Southworth, Michael Ohrt, Thomas Ohrt, Gerard Ohrt and Judith Kyousky and the late Christine Cass, James and Robert Southworth.  Barry is also survived by several nieces and nephews.
Visiting hours at Dolan Funeral Home, 1140 Washington Street, DORCHESTER LOWER MILLS, Tuesday Dec 29 from 11:00 AM to 2 PM. Family and friends are invited. A private service and interment will be held. To be determined at a later date a celebration of Barry's life will be in the summer of 2021.
In lieu of flowers, donations may be made in Barry's memory to the National Kidney Foundation, Finance Department, 30 East 33rd St., New York, NY 10016.