Yvonne Bosquet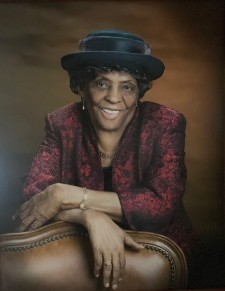 On the early morning of Sunday, November 8, 2020, Mrs. Yvonne (Florent) Bosquet peacefully departed the land of the living and entered the kingdom of heaven with our Lord, our Father, Christ, while resting in the comforts of her home.

Yvonne Bosquet, formally known as Florent, was born on June 6, 1926, and raised in Thomonde, Haiti. Her parents, Florial Florent and Claire Melie Denizard, were two strong people who lived off the land, taught their children how to farm, and conducted commerce, cooking, and community value. She valued her family and the knowledge that was instilled in her to be able to assist the household. She spent her time and efforts making sure her younger brother, Hermann Florent, flourished in school and pushed him to be the man he is today. Their bond was inseparable. Even though she and her late sister Odelia had their issues, they were two peas in a pod. Family is what she has always had in her heart.

Love at first sight.
The first time Arsene Bosquet laid eyes on Yvonne, he was determined to figure out who her relatives were. His determination worked out for him, and he was able to meet his soon to be bride and her witty personality that intrigued him about her. He married her when she was 18 and started their family immediately. He was openly welcomed into her family, and they grew their own family to 6 exceptional children who have survived both parents. Yvonne Bosquet lived a beautiful long life, filled with hardships that instilled intimate knowledge amongst all her children, grandchildren, and great-grandchildren. Love and humor used to create meaningful relationships between each and every child she had. She believes each grandchild and great-grandchild was born out of her, where she would teach each one a biblical lesson. Her most outstanding achievement was her ability to invest in each person she loved.

What she enjoyed most was the ability to laugh, make jokes, and dance nonstop. Her sense of humor was electrifying and contagious.
She is survived by her younger brother, children, grandchildren, great-grandchildren, nieces, nephews, cousins, and many friends.
Brother:
Herman Florent
Children:
Marie Leonie Bosquet, Jeanne and Frantz Olmann Sr., Hesem and Rithe Bosquet, Marie M. Bosquet, Pierre and Rosana Bosquet, Louis and Yolette Jeanniton.
Grandchildren:
Dorothy Horacius, Roland Joseph, Dantornia Joseph, Jeffrey Joseph, Joey Bosquet, Frantz Olmann, France Olmann, John Olmann, David Olmann, Daniel Olmann, Diane Bosquet, Allison Bosquet, Hussain Bosquet, Lance Bosquet, Olamar Bosquet, Rithemar Bosquet, Kamissa Bosquet Fleurival, Darnelle Bosquet-Fleurival, Mitch A. Bosquet-Fleurival, Yves-Marie Bosquet, Gabriel Bosquet, Louis Jeanniton Jr., Vanessa Cabe.
Great Grandchildren:
Jonte Joseph, Janaiya Printemps, Makayla Horacius, Damaury Horacius, Taynajha Joseph Pierre, Roland Jordan Joseph, Jeffrey Jr. Joseph, Jayden Joseph, Karina Jeune, Jordan Olmann, Ryann Olmann, Immaculate Mcleggan, Eli S. Cabe.
Visitation will be held at the Dolan Funeral Home, 1140 Washington St. DORCHESTER LOWER MILLS on Friday November 13, from 4-8Pm. A Mass of Christian Burial will be held at Saint Angela Church. Interment at Fairview Cemetery.