Mary Ellen (Reynolds) Kennedy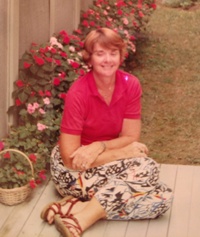 Mary Ellen (Reynolds) Kennedy, 83, of North Falmouth and Milton, MA, died peacefully on March 27, 2020.
Mary leaves her beloved husband of over 60 years, Thomas L. Kennedy; her two sons Patrick T. Kennedy and Michael J. Kennedy (daughter-in-law Robin); grandson Timothy; sister Brenda R. McGovern; sister-in-law Ann Reynolds; several first cousins; and eighteen nieces and nephews. Mary was the sister of the late Joseph B. Reynolds, Jr., who passed away on July 20, 2020.
Mary was born in Boston, MA and grew up in Lenox, MA. She graduated from Lenox High School in 1954, Regis College in 1958, where she earned a Bachelor of Arts in Home Economics. After graduating, Mary became a Lay Apostolate volunteer and with five of her classmates traveled to Hobbs, New Mexico where they staffed St. Helena's School. On Thanksgiving Day November 26, 1959, she married Tom Kennedy. As a Navy wife she moved for Tom's Navy assignments, first to Athens, GA where she interned at the University of Georgia Home Economics Department. Then to San Francisco, CA where Patrick was born and then Hartford, CT where Michael was born, then returning home to Massachusetts.
Mary, a loving mother, wife, grandmother, relative, friend, teacher, volunteer and life-long Massachusetts resident, made her mark on the world through loving kindness to family, friends, and the many people she knew and lives she touched. Mary and her family lived in in the Milton area from 1962 until retiring to North Falmouth (Megansett) in 2000. Since childhood, she enjoyed visiting Cape Cod. Mary and her family spent summers in Megansett on Cape Cod beginning in 1969. Mary's passion for life and service to others was evident in her dedication to and leadership in volunteer pursuits over the years. She was a daily communicant and active volunteer at Saint Agatha's Church in Milton and Saint Elizabeth Seton Church in North Falmouth. At Saint Agatha she was a Cub Scout Den Mother, Boy Scout Adult Leader and an active volunteer in other areas. From 1984 until she retired, Mary hosted a very successful Sunday Brunch benefiting Francis House, a Boston MA homeless shelter.
As a young child Mary's great Aunt taught her to sew in what became one of her life-long passions. She achieved professional level skill in sewing. She also loved gardening, with a particular fondness for impatiens, and she was attentive to every detail related to making her house a home filled with love and laughter. Mary lived life with grace, dignity and a strong faith. She was a breast cancer survivor (since 1984) and battled Dementia for 10+ years with a warm demeanor and loving smile before dying suddenly, yet peacefully of an acute stroke.
A Memorial Mass for Mary will be celebrated in Saint Agatha Church, 432 Adams Street, Milton on Saturday, November 7th at 12:00 Noon. Relatives and friends invited. Interment Mount Calvary Cemetery.
The livestream link to the Mass will be available here on the day of the service : https://vimeo.com/475041818
For those who will be able to be attend the Mass in person, the following is a link to pre-register for Covid 19 contact tracing purposes :
https://events.r20.constantcontact.com/register/eventReg?oeidk=a07ehe43shl21e64736&oseq=&c=&ch=
Donations may be made in Mary's memory to the Thomas L. and Mary R. Kennedy Scholarship at the College of the Holy Cross, 1 College Street, Worcester, MA 01610, https://bit.ly/HCKennedy. This scholarship was established to benefit worthy graduates of Lenox, MA High School; Medina, NY High School and/or Xaverian Brothers High School in Westwood, MA.