Marie Gardner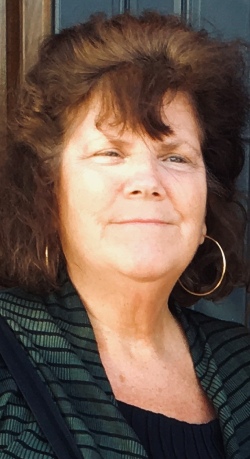 Marie Helena Gardner (Mackin) of Quincy formerly of Dorchester died suddenly on November 3, 2020. Beloved and cherished mother of Gregory Carabitses and his wife Sarah of Stoneham, Emily Carabitses and Michael Gillis of Dorchester, Abigail Gardner and Patrick Doyle, Jeshurun Gardner, Benjamin Gardner and Jade Juliano and Rebecca Gardner all of Quincy. Loving sister of Louise Mackin, John Mackin, David Mackin, Joseph Mackin, Frances Lawlor, Joanne Mackin, Jane Mengesha, Paul Mackin, Virginia O'Brien, Robert Mackin, Elizabeth Garvey and the late James Mackin. Daughter of the late John E. Mackin Jr. and Emily (Eastman) Mackin of Dorchester. Cherished "Gram" to Hannah Hall, Madelyn Carabitses, Shane Gillis, Jayden Gardner, Maximus Doyle and the late Eva Gillis.
Marie was born, raised and educated in St. Gregory Parish in Dorchester. She took great pride in being one of 13 siblings and never shied away from telling others of her large family. She was a proud sister and daughter. Marie's purpose on earth was to nurture, both as a mother and a nurse, and she fulfilled her purpose to the fullest. She loved her children and her grandchildren fiercely, with every fiber of her being. If there ever was a soul made of true pureness and love it was that of Marie's. She worked as a dedicated nurse for many years, most recently employed at Brookdale Assisted Living in Quincy. She loved being a nurse and her compassion for others was felt near and far. Marie, affectionately known to her family as Rere, had many passions in life. She was a creative soul who could sing as if she was an angel on Earth, which she truly was. She loved her music, her knickknacks, a good yard sale, decorating, and had a past history of stenciling every wall or cabinet she possibly could. She was an amazing poet and a free spirit. She loved a nice cup of tea or a scallop plate from the Clam Box. She enjoyed the simple things in life such as seeing her family, caring for her grandchildren, the warmth of the sun and nature. She loved making her famous baked mac and cheese. She loved relaxing in the backyard watching her grandchildren enjoy the summer fun.
Marie's heart was most content while at the beach. Every summer any free time she had was often spent at Nantasket Beach with her chair snuggled firmly into the sand at the water's edge. She would sit for hours listening to the beauty of the crashing waves while indulging in the summer's warm sun.
Marie is loved beyond words and missed beyond measure. Her selfless character, strength and hard work was admired by all. We know her spirit is at peace with Jesus as she so often spoke of. She was a firm believer of entering Heaven's gates after her time on this Earth was done. We know her legacy of love, compassion and joy will be carried on by her children, grandchildren and all those whose lives she touched.
Relatives and friends are respectfully invited to attend visiting hours on Thursday 3-7PM in the Dolan Funeral Home, 1140 Washington Street, Dorchester Lower Mills. Mass of Christian Burial will be Celebrated on Friday at 11AM in St. Gregory Church, 2215 Dorchester Avenue. Relatives and friends invited. Interment in Cedar Grove Cemetery, Dorchester.