Letita Jackson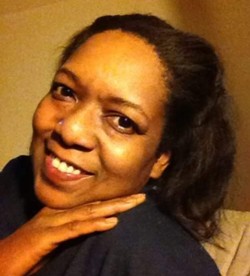 Letita Jackson was born on November 25, 1968 to John and Willie Mae Jackson. She was the sixth child of her seven siblings Kerry, Dwayne, John (Dale) Rosemary, Pernell and Bernard Jackson. She was loved and honored dearly by her two children Tyhanna and Alvin (AJ) Rhem fathered by Alvin Rhem Sr. and her grandchildren. Letita sadly passed away on Friday October 30, 2020 at her home in Dorchester, MA.
Letita was born, raised, and educated in Boston, Ma! She was a graduate of Mario Umana Academy in East Boston. Throughout the years she maintained many jobs and she was always dedicated to giving work her all as with her current employment at 1-800-Got-Junk, Letita was loved and respected by everyone.
Letita or Tita as many called her was the one person anyone could call and she can turn your frown upside down. She was also there to lend an open ear and be a shoulder to cry on. She was a jokester and a fast talker. Tita, was a great mother, daughter, sister, aunt, grandmother and friend to everyone! You can always expect a call or text from Tita for your birthday even if you hadn't heard from her in months!
Tita took the most pride in her family who were the cornerstone of her life. She wanted to make sure those around her always had a smile on their face. Letita will always be remembered as a woman with a great personality. She was the life of the party. Letita will always be missed by all those who had the pleasure to know and love her.
She is survived by her children whom she loved dearly Tyhanna Rhem and Alvin Rhem Jr, She was a cherished grandmother to Torrin, Kynai and Ari and she was eagerly awaiting the arrival of her newest grandson, Kaylem. She also leaves to mourn her parents John and Willie Mae Jackson; her siblings Kerry, Dwayne, John (Dale), Rosemary, Pernell, and Bernard Jackson. She leaves behind a host of nieces, nephews, extended family, and many friends.
Visitation Wednesday November 11, 10-11am in Dolan Funeral Home, 1140 Washington Street, DORCHESTER LOWER MILLS. Funeral Service will follow at 11am in the funeral home.