Diane F. Dacey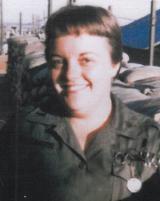 It is with great sadness that the family of Diane F. Dacey announces her passing, Tuesday November 10, 2020, at the age of 84 years old.
Diane grew up in Milton, MA and spent a lot of her time in New Hampshire. Her father and uncle operated the first rope ski tow on weekends in the winter and her parents had a successful homemade ice cream business in the summer in Bristol, NH. As an adult she spent many weekends in New Hampshire with her husband Jack.
Diane graduated from Milton High School (1954) and New England Deaconess Hospital School of Nursing.
Diane was a proud Army veteran serving from 1967-1969. At the age of 31, she enlisted in the Army and served in Vietnam as a surgical nurse. In Vietnam she was first stationed in Qui Nhon in the 85th EVAC Hospital. Soon after, she was sent to Chu Lai in the 2nd Surgical Hospital which was a MASH Unit. At the end of July 1968, Diane received her orders that she had completed her tour in Vietnam. After returning home to the States she was stationed in Denver, CO.
Diane eventually found her way back to Milton, where she reconnected with her longtime friend John "Jack" Dacey and the two were married in 1970.
Diane dedicated herself to a nursing career at Milton Hospital for 42 years. She held many positions at the hospital and was well respected. During that time she made many friends with whom she remained close until her passing.
Friends were very important to Diane. She would host weekly dominoes games with 'the girls". Attendance was mandatory. The dominoes girls had all been friends since grade school and if you walked by her house during one of the games you could hear the laughter from the street.
Besides spending time with family and friends, she enjoyed gardening, reading, birdwatching, all animals, the theatre, crafts, and travel.
Diane was predeceased by her husband John P. Dacey, her parents George F. Jr. and Barbara Winslow Fellows, her brother Peter Fellows, her cousin Ralph Fellows Jr., and numerous in-laws from the Dacey family including her dear friend and sister-in-law Dorothy Bosworth.
Diane is survived by her sister-in-law Marlene Fellows of Roswell, GA, Peter and Marlene's children Lauren (Pat) McBride, Peter J. (Priscilla) F. Fellows, and Scott W. Fellows, and her cousins Fred Fellows and Julia Fellows Osborne.
Also survived by her nieces Jane (Joseph) Mazzarella, Jacqueline (Paul) Driscoll, Nancy Bosworth and nephews David Bosworth and Charles (Delphine) Bosworth.
Interment services will be private. Diane will be laid to rest next to her husband in the Veterans section of Milton Cemetery.
In lieu of flowers, donations in Diane's memory can be made to Wounded Warriors, Disabled American Veterans, or The Salvation Army.