Marie "Guirlaine" Julien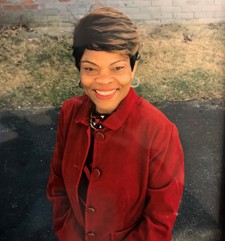 Marie Guirlaine Julien (58) of Boston, MA went home to be with her Heavenly Father on Tuesday, September 22, 2020 alongside her loving four children.
She was born September 28, 1961 in Port-au-Prince, Haiti to Jeanne Pierre and Geto Julien. With the support of her grandmother Germaine Julien she emigrated to the United States at the age of 25. Coming to America was a wonderful opportunity for Guirlaine to finish her schooling, work in the medical field and build a home for her family. She was blessed enough to open her home to family and friends. She was known for having yearly gatherings/parties to bring people in the Haitian community together. Everyone who had the pleasure of meeting her, was in some way impacted by her beautiful smile and sweet personality.
As a mother of four and grandmother and grandmother of three, with one on the way, Guirlaine always had her hands full keeping up with everyone and their lives. She shared a special relationship with each child. A lot of traits in which she mimicked from her own relationship with her mother Jeanne and brother Kelly.
Guirlaine enjoyed dressing up, doing her make up and dancing. She loved God and was a woman of faith. She would always say, "I'm happy I lived my life to the fullest with no regrets". Though she is gone, she will never be forgotten. She leaves behind so many beautiful memories in the hearts of everyone she has touched. Her legacy will forever live on through her surviving children, Nathalie Mary, Elizabeth Faroul, Hardaway Henri, and Katisha Elie and grandchildren, Terick Time, Naliyah Time, Ella Jean, and Kamari Fuquay.
Visitation at the Dolan Funeral Home, 1140 Washington St., DORCHESTER LOWER MILLS on Saturday, October 10, from 8:00am-10:00am. The Funeral Service will begin at 10:00am. Interment at Cedar Grove Cemetery.