Maria Barros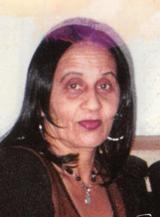 Maria Barros, also known as "Fatuca," passed away on Tuesday, September 15, 2020 surrounded by family.
She was born on October 18th 1952 in Fogo, Cape Verde, She was the daughter of late Joana DaSilva and Cesar Barros. She was married to Valdemiro Mendes (Deceased) on June 16th 1973.
Fatuca started her devotion of loving and helping others at a very young age when she became a teacher at the age of 17. She became " Professora" to so many kids who still love her until this day. She treated all her students like she would treat her own inside and outside her classroom. She was an educator and a community leader throughout her life.
Fatuca is described as a strong, selfless woman, with an immense amount of love for others and Life.
Those who spent time with her, quickly gravitated towards her warm spirit; She welcomed everyone with a big smile and open arms.
It was evident from the very beginning of her life that she was destined to be a warrior and a survivor, like her mother.
Fatuca was always kind and willing to give her last to help others and made sure everyone around her was Happy. Fatuca was also not the one to be messed with, She was strong physically and mentally, she stood up for herself and others in any situation, she worked hard to provide and protect the ones she loved.
Fatuca will forever be remembered for the love she had for her children specially her "kode Gemeas". She would call all 9 of them Every single day to simply say "I love you". Sometimes she would call one of us twice because she forgot who she had called first. I think we would all agree when Jay (daughter) says "She was perfect for me, she was my best friend and always had my back."
She enjoyed laughing, cooking, decorating, knitting, and spending quality time with those that meant the world to her. Those that knew her, knew she loved getting dolled up and dancing around the room to the beat of her own tune.
Her energy was powerful. She was a devoted catholic. She modeled what it meant to have faith and never give up and to always be there for others until her very last day.
Fatuca went home to Jesus on September 15, 2020, while surrounded by her children and grandchildren.
She leaves behind her 6 sisters, her 6 daughters, 3 sons, (Delmira, Mira, Valdemar Jay, Lisa, Valdir, Erky, Mena and Mona) and 12 grandchildren.
Her life truly embodies Proverbs 22:6, "Start children off on the way they should go, and even when they are old they will not turn from it."
Visiting Hours will be held at the Dolan Funeral Home, 1140 Washington St., DORCHESTER LOWER MILLS on Thursday, September 17 from 5-9PM. A private Mass of Christian Burial will be held at Saint Patrick Church.