Louis Philippe Arty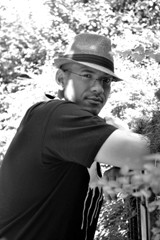 Louis Philippe Arty tragically left this world on August 10, 2020 in Belgium. His life was cut shockingly short in a tragic cliff-diving accident in Floreffe, Belgium.
Most importantly, Philippe also known as Pipo, BFlow and CrossFlow was an exceptional loving father and a strong provider is survived by his two sons Bradley Arty and Maylan Arty, his mother Carole Demesmin Arty, brother Chad Arty & family, Stephanie Cox, mother of his children, brother Edgar Arty & family, sister Raquel Arty Edwards & family, and an extremely large and loving family of uncles, aunts, and cousins. Though we all know it can be difficult to balance the needs of a thriving business, with those of family, Philippe never faltered and was always there for his two sons who were the biggest part of his life, who accompanied him in most of his adventures.
When you mix love with art, and allow the two to bring people together, then you have a wonderful thing. You have something magical, you have Louis Phillipe Arty. Philippe was the unity of art and love, a gift brought to us all by Carole Demesmin Arty and Michel Arty on August 11, 1981. He was born at Saint Elizabeth Hospital in Brighton, Massachusetts. A few years later, they blessed us all again with Chad Arty, another musical note to the family melody.
Wanting to raise their two sons in their native land, Carole moved back to Haiti with her boys, where they received their early schooling. This strong desire to keep the boys educated in the French language and her native culture, explained why Pipo and Chad furthered their educations in francophone countries: Guadeloupe, France and Belgium. The two brothers grew up sharing a very special bond which no one could ever matched.
Pipo, BFlow, CrossFlow, was a wonderful human being, the kind of guy who left his mark wherever he went. He built a strong fan following and made hundreds of friends everywhere he went. He was also a spiritual man with strong moral values. Both his parents were devout followers of their religions and this spirituality flowed through his music. His business partners described him as an honest man, a real friend always ready to help others. His stage companions respected his hosting skills, and his willingness to step down graciously to make room for someone else to shine. Mainly he was "Pipo" for his mom, who held a very special melody in his heart, for his brothers, his sister and all members of his family who adored him because he was a warm, genuine, respectful and kind soul.
Summer vacations were spent in Haiti, Boston, Miami, & New Jersey. Precious fun times were shared with Mom, Dad, Brother Edgar, Sister Raquel, Uncle Cons, Uncle Moze, uncle Victor (his God-Father) Uncle Castel, Uncle Stanley, Uncle Jean Jean, Uncle Vava, Taty Poupette, Taty Babeth, Aunt Therese (his God-Mother), Taty Nancy and their families and all of his cousins. These fond memories contributed to their strong family-oriented characters. It was also an opportunity for Pipo and Chad to practice the English language, learn " Creole" and stay connected to their American culture and their Haitian roots. When higher education years came, Chad moved back to the United States to attend college and Philippe enrolled at UC Louvain (Universite Catholique de Louvain-La Neuve) in Belgium where he graduated, majoring in Economics. After graduation, Louis Philippe established himself in Brussels, Belgium where he created a beautiful life and family with Stephanie Cox, the mother of his two adorable boys, Bradley and Maylan. They had a collaborative and caring relationship based on mutual support and a deep love for their children. This addition to his family made the beats in his heart truly Flow!! His heart poured out when he spoke of his family and spent time creating special memories with his boys.
Being the son of Carole "Maroule" Demesmin Arty, a world-renowned Haitian singer and artist, Philippe developed, at an early age, a passion for music, singing and dancing. He mastered the art of "Human Beatboxing", which is the essence, the act of using your nose, throat, mouth and lips to create music. His beatboxing talents and his natural flow on the stage, made him gain popularity as "BFlow" in the Belgium capital and surrounding regions. He soon founded "Alerte Urbaine", an organization, promoting Belgian Hip-Hop and bringing awareness to different styles of music and local talent. BFlow participated in numerous competitions organized by WHBBE (World Human Beatbox Entertainment) to promote the art of Beatbox worldwide. His participation in the 2014 WHBBE competition in the USA was one of his most memorable moments as he performed in the presence of some of his family members from Boston and other members who came to enjoy a BFlow/USA-Haitian freestyle performance. BFlow loved "Hats" and always wore a Fedora on stage, marking his love for style. They became his trademark and a "must-have" accessory for all his performances. His deep love for Haiti and its culture resonated throughout his artistic life. He was always proud to carry the Haitian flag wherever he performed, while sharing his heritage with the two prides of his life, Bradley and Maylan.
With a thirst for more of Life and a desire to share his multiple talents in a different way, Philippe returned to school to acquire a degree in fitness and nutrition and ventured in coaching these two disciplines. His newly created company, CrossFlow soon became very popular on social media sites, attracting a large audience and building an impressive clientele. Amazingly, BFlow became also known as: CrossFlow the Nutritionist, the Fitness coach, the Challenger with the special greetings "Hey what's up challenger, challengers", the Cliff-diver. His seminars on nutrition, his "crazy Monday shows", his cooking videos, his CrossFlow sauce recipes, and his dessert creation " Tirayisien", all became additional musical notes to our Pipo's "Song of Life". His legacy will live forever. We will always carry his memory in our hearts.
Visiting hour at Dolan Funeral Home, 460 Granite Avenue, EAST MILTON SQUARE, Friday, September 4 from 10:00 – 10:45 AM.  Funeral Service and Interment will be private.
Virtual Services: Zoom App https://us02web.zoom.us/j/88530100100 or for Youtube Live please search PPMServices Louis Philippe Arty