Linda Diane Mihal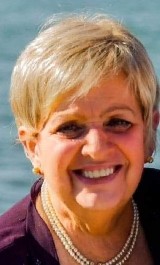 Linda Diane Mihal, 71, of Weymouth, passed away on Sunday, September 13th, 2020.
Linda was and will forever remain a cherished mother, grandmother, and friend to so many. Her sense of joy and humor was a light that will always shine in our hearts and memories. She had a smile so warm and soothing that one could not help but smile in her company. Her laughter could heal most any wound, it was just as alive as her powerful spirit. Mum's real superpower was how she could make anyone in any situation feel at ease. She knew just who she was and lived her truth. Being so comfortable in her own skin she made space for others to do the same. If you knew her for a day or a decade, Linda Mihal gave you her heart on her sleeve, and she truly meant it.
Our mother loved her children and grandchildren with all that she had. She counted not pennies but moments in love with her family as her treasure. She would call us kids her pride and joy, and now as I think of her life and love I can think of no better words to describe a woman so dedicated and selfless for her family. She was and is our pride and joy.
For those that knew Linda you already know the story of her life, what she enjoyed doing, how she spent her time. More than this, you know that the story of her life is best captured in every conversation shared, every prayer she sent up for those she loved, every hand she held in times of distress, and in every face she lit up as she smiled out your name and reached for a warm embrace. We will love her for all of her beautiful ways, for always.
Linda was born on July 30th, 1949 in Boston, MA. She was the daughter of May and Phillip Mihal of Dorchester, MA.  She was a vibrant soul who is survived by her five loving children Marybeth Murphy of Brookfield, Justin Murphy and his wife Emily of Quincy, Ryan Murphy and his wife Sandra of North Conway, NH, Kaitlin Murphy of Somerville and Desara Mihal and her fiancé James McGregor of Weymouth.  Cherished grandmother of Patrick Murphy and Johnny Murphy who were her true pride and joy.  Linda is survived by many cousins whom she adored and her dearest friend, Lynda Mitchell of Braintree.
Visiting hours at the Dolan Funeral Home, 460 Granite Avenue, EAST MILTON SQUARE, Friday, September 18th from 4-8 PM. Family and friends invited. The funeral service and interment will be private.