Antonia Gregorio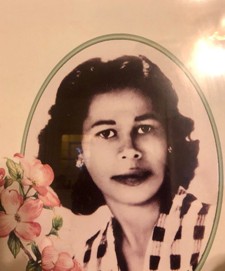 Antonia Gregorio of Coura, Trinidad & Tobago passed away on her 96th birthday on September 2nd, 2020. 
Antonia was born on September 2nd, 1924 to her mother Celestina Reyes and her father Julian Marine.
Antonia will be lovingly remembered by her children Lita (Gregorio) Thomas, Philomena Shirley (Gregorio) Frank, Francis Xavier Gregorio, Malcolm Wayne Gregorio, and Clint Michael Gregorio. She is survived by 7 siblings by father (the Marines and the Laras).
Antonia also had 20 grandchildren, Leiba Thomas, Leylon Thomas, Lex James, Leyson Thomas, Leika Thomas, Mereliana Hunte, Natarsha Hunte, Kera Hunte, Recia Williams, Aria Frank, Mesue Wyre, Melissa Gregorio, Malcolm Gregorio, Mario Gregorio, Marlon Gregorio, Maquis Gregorio, Michael Gregorio, Evyn Gregorio, Grantley Gregorio, and 25 great-grandchildren.
Last but not least, she leaves behind a host of nieces, nephews, cousins, and friends.
A longtime resident of Saint Augustine, Trinidad & Tobago. She left Trinidad & Tobago and migrated to Boston, MA in 1977. She resided in Dorchester until her passing.
Antonia was an exceptional cook, she loved to host parties and attend social gatherings, and enjoyed anything carnival. She was fluent in Spanish, enjoyed making wine, and watching her telenovelas. She was an amazing swimmer and loved the ocean. 
Visitation will be held at the Dolan Funeral Home, 1140 Washington St., DORCHESTER LOWER MILLS on Tuesday, September 8, from 9-10am. A private Mass of Christian Burial will be held at Saint Mark Church.