Judith Darrell-Kemp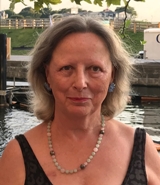 Judith Darrell-Kemp passed from this life Thursday August 13, 2020 at home in Milton after a three-year battle with ovarian cancer surrounded by her loving family.
Judith leaves behind her devoted husband of 48 years Thomas Kemp and her adoring and adored son Ian Darrell Kemp.  She also leaves brothers John G. Darrell of Needham, Henry Darrell of Hingham, a sister Mary Louise Darrell of Randolph, nephews Nicholas Freije Darrell and Alexander Freije Darrell of Needham and a niece Claire Fitz of Oakdale New York.  She also leaves many many dear friends who saw her as their best friend, honorary aunt, and mentor, grieving her loss.  She was also a favorite cousin to many.
Judith was born in Boston November 5, 1949, attended elementary and high school there and graduated from Boston University and New England School of Law. Judith's law practice focused on contracts and intellectual property with a focus on writers and film makers. She was very skillful in giving structure to creative partnerships. She also assisted many clients with a variety of pressing legal issues. Judith's passion was the natural world. She was an avid gardener with a beautiful vision and graceful touch. She was happiest in her gardens with clippers in her hand. She was a member of the Garden Club of Milton for over 30 years, through which she lobbied for environmental issues in Washington many times. In Milton she spearheaded Garden Club efforts to save historic formal gardens. Judith was also an active supporter of the Trailside Museum, its native wildflower garden and Friends of the Blue Hills.
Judith served for many years on the Milton Conservation Commission and was a strong advocate for the preservation of the natural spaces in her town, particularly the preservation and planting of native trees and plants, protecting natural spaces from light pollution, and the protection of waterways and wetlands.
First Parish Unitarian Universalist in Milton was her spiritual home for over 30 years. She served on many committees at First Parish over the years and donated her legal skills to help the church contract to install a solar power system.
Funeral services will be private and a much-deserved celebration of her life will be held at First Parish when it is safe to do so. She will be profoundly missed by many.