Thomas William Hayes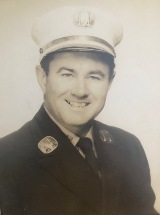 Thomas W. Hayes of Milton, formerly of Brick, NJ, Williston Park, NY and Brooklyn, NY, passed away peacefully at home on Saturday, June 20, 2020. 
He was predeceased by his beloved wife of 69 years, Harriet L. Hayes and his son, Howard F. Hayes. He is survived by his children, Therese Wills and her husband, Richard of Niantic, CT; Colleen Hession and her husband, Michael of West Dennis, Ma; Peg Sheridan and her husband Joseph of Westfield, NJ; Thomas Hayes and his wife Janet of Manhasset, NY; and Janet Hayes and her husband Peter Bongiorno of Milton, Ma. He was also the father of the late Howard Hayes, and is survived by his wife, Cathy.
Tom so enjoyed the blessing of his grandchildren including: Erin and Meghan Hayes, Elizabeth Chou and her husband Jonathan, Richard, and Bryan Wills, Michael and Patrick Hession, Thomas Sheridan and his wife, Mattie, Kate and Colleen Sheridan, Lauren and Michael Hayes, Gabrielle, Isabelle and Peter Bongiorno. He was the Great Grandfather of Madeline and Everett Chou.
Tom was a Marine combat veteran of WWII, enlisting at seventeen and serving with the 612th Marine Rocket Squadron, 61st Marine Air Group in Saipan, Iwo Jima and Okinawa. The Marine motto of Semper Fidelis touched every part of his life.
After his discharge, he served in the New York Police Department for a few years then became a proud member of the New York Fire Department, a career that spanned over thirty years culminating in the rank of Battalion Chief. He also volunteered as a firefighter in Williston Park, NY.
Having lost his mother, Mary, at a very young age, he was determined to provide a warm, loving and stable home for his growing family, frequently working three jobs. His memories of those busy years were marked by gratitude to his devoted wife, Harriet for managing, "All those kids, all by herself."
He installed a picnic table in the kitchen to accommodate everyone as eating meals together was especially important. There was never a pause in conversation in his Irish household, and he made sure to take an interest in each of his children's lives from volunteering to drive the parish bus for soccer games to supporting their various sports and arts.
A favorite story was to describe " …the first time I saw your Mother, as she was leaning over the railing of the boardwalk at Coney Island." He thought he was merely sheltering under the boardwalk to avoid another sunburn but he was smitten, to be sure. He shared the struggle of a young couple, with their first apartment being a single room, with a shared bathroom and kitchen. Their marriage of sixty-nine years was marked by mutual respect, love of country and fidelity to their Catholic faith.
He loved to travel, devouring books and maps, and always planning his next trip. Besides Europe, Alaska, Hawaii and the Caribbean, he loved spending time on Cape Cod and Florida. He was an exceptional gardener, enjoying the outdoors planting flower beds and tending shrubs. As a voracious reader and music lover, he delighted in all genres.
Due to the ongoing restrictions, a celebration of his life will be held at a later date.
In lieu of flowers, memorials in Tom's name may be made to: St Jude Children's Research Hospital, 501 St. Jude Place, Memphis, TN 38105, www.stjude.org or The Immaculate Conception Monastery, 86-45 Edgerton Blvd., Jamaica, NY 11432, www.passionists.us.