Rupert A. M. Davis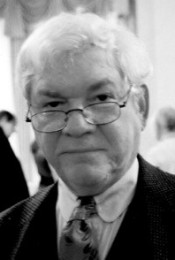 Rupert A. M. Davis of Arlington, Massachusetts died suddenly from a heart condition on June 4th.

Named after the English poet Rupert Brooke, Rupert was born in London, England in 1949 and raised in Norfolk.  After the death of his father, Col. Peter Davis, a doctor, in 1961, his mother, Valerie (Martin) Davis, married Dr. Jack N.P. Davies, a renowned medical pathologist.  Following his stepfather's postings, the family lived for several years in Uganda, and emigrated to Albany, New York where Rupert attended the Albany Academy.  Rupert is survived by his half-brother Nigel Davis and his sister-in law Anne Davies, both of New York State, and by his cousin Cherry Edgerton-Bird of Maryland. 

Rupert studied art history and historic preservation at Boston University, and worked as an archivist and researcher at Harvard's Widener Library and the Bostonian Society, executive director of the Boston Preservation Alliance, and store manager of Schoenhof's Foreign Books and Shaker Workshops. He was a devoted congregant at St. Peter's Episcopal Church in Cambridge, where he sang in the choir. He was a longtime member of the Boston Athenaeum and an avid reader, deeply informed on subjects ranging from Medieval architecture and liturgical vestments to the peccadilloes of the British royal family. Rupert was a committed preservationist and antiquarian, active in the New England Chapter of the Victorian Society in America, the Gibson House and the Old Schwamb Mill. Although he lived his entire adult life in the United States, he never lost his English accent, nor his courtly charm and delightfully raffish sense of humor. In every setting, he cultivated lasting friendships, and will be keenly missed.

A service will be held at St. Peter's Church once social distancing restrictions allow in-person gatherings. Donations in Rupert's memory can be made to St Peter's Church, 15 Sellers Street, Cambridge, MA 02139 or https://saintpeterscambridge.org/donations/ or to the Boston Athenaeum, Attn: Development Office, 10½ Beacon Street, Boston, MA 02108 or  https://www.bostonathenaeum.org/.