Kimberly M. (Nash) Casey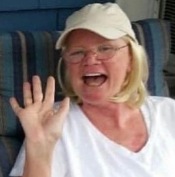 Kimberly (Nash) Casey, 53, passed away after a long and valiant battle with breast cancer, Tuesday June 2, 2020.
Kimberly was born in Nashua, NH and moved to Hull where she was raised in a large loving family. Kimberly attended and graduated from Hull Public Schools. She attended Curry College and received an Associate degree. Kimberly was a longtime employee of the Town of Milton Public Works Department for over 30 years. Kimberly met her future husband Ben Casey in 1986 while riding the MBTA bus. Ben was driving for the MBTA bus and Kimberly was a passenger. They recently celebrated their 30th wedding anniversary.
Kimberly is survived by her loving husband Ben Casey and her 2 dogs Bella and Georgia. Daughter of the late Stewart and Joan (Mannering) Nash. Loving sister of Bob and his wife Annie Nash of Hull, Christopher Nash of Everett, Danny Nash of CA, Timothy Nash, David Nash, Michael Nash and his wife Maxine, Kathy Campbell and her husband Frank, Kelly Cusick and her husband Bruce, all of Hull and Tara Crowley and her husband David of Weymouth. Kimberly is also survived by several nieces and nephews.
Private visitation at the funeral home and Mass of Christian Burial to be celebrated in Saint Elizabeth Church, Milton.
Donations in Kimberly's memory may be made to the Milton Firefighter's Relief Association #1116, Attn: Barry Ellis, 515 Canton Avenue, Milton, MA 02186.