Virginia L. (Nevulis) Murdock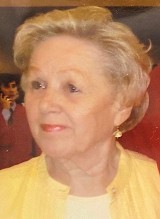 Virginia L. (Nevulis) Murdock, of Milton, passed away on May 6, 2020 at the age of 94.
Born at home in South Boston in August, 1925 to the late John and Leonora (Borowski) Nevulis, Virginia was raised in Neponset and graduated from St. Ann Parochial School. She later graduated St. Rose High School in Chelsea in 1942. With World War II raging, she put aside college plans and went to work for Chelsea Clock Company to assist her family. At war's end, she became the bookkeeper for Acme Foundry in Chelsea, owned by the Murdock brothers. And it was there that she met her beloved husband, Vincent. They married in 1947, raised their four daughters in Milton and enjoyed many happy years together until his death in 1983.
Virginia worked for many years for Bank of New England in Boston, retiring from its EFT division in 1989. Upon retirement, she delighted in traveling, not only in the United States but also Europe, visiting almost two dozen countries. An avid reader, she enjoyed Milton Library book clubs. And she enjoyed the wonderful friendship of fellow members of the Cunningham Park Seniors Bowling League in Milton.
Virginia is survived by daughters Virginia (Chester) Freeman of Quincy, Carolyn (Rodney) Fritz of Milton, Jane Murdock of Houston, Texas, and Barbara (Kevin) Harnden of Milton. She was the cherished grandmother of Andrew, John and Christopher Freeman, Charles Harnden, and Anna, Joseph and Neal Fritz and great-grandmother to Abigail and Thomas Freeman and Joseph Fritz. Sister of Marilyn Koski of Cherry Hill, NJ and Dolores Dronzek of Katy, TX and the late Leonora Lawrence and Simone Vandermark. She was the loving aunt of 26 nieces and nephews and dear cousin of Eileen (Greb) Jerzylo of Hyde Park.
Due to the restrictions of Covid-19, funeral services for Virginia are private. A celebration of her life will be planned for a later date. Interment in Milton Cemetery, Milton.