Olimbia N. Filipski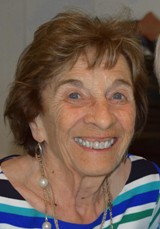 Olimbia N. George Filipski October 9th 1930 – April 23rd 2020
Olimbia N. George Filipski, age 89 of Boston, MA, died peacefully April 23rd 2020 at her home after a short illness. Devoted wife of 49 years to the late Ronald Filipski. Beloved mother of the late Pamela Filipski; Cathy and her husband Patrick Madigan of Milton, MA; Jay and his partner Steven Mousterakis of Watertown, MA; R.J. Filipski and his wife Marianne of Manhasset, NY. Caring sister to the late Mildred (Buksar) and Constance (Holmberg) George. Doting Nana to Audrey, Patrick, Cooper, Cecile, Lily and Michaela. Cherished friend of too many to count — old and young — near and far.
Bea was born in October of 1930 in Southbridge, MA. Her parents Nicholas and Catherine were first generation Albanian immigrants; a heritage she took much pride in. She spent much of her youth amongst a tight-knit community of Albanian immigrants in Southbridge, fostering close relationships within it while maintaining the culture of the country from which her family came. In her young adulthood, Bea spent much of her time with her friends traveling to cities in the Northeast, while working at the American Optical Company as an Administrative Assistant. In May of 1958, Bea married Ronald Filipski, a local football star and AT&T executive. During their marriage, Bea and Ron had four children — Pamela, Cathy, Jay and R.J. — of whom they were very proud. After her own children grew up, Bea provided daycare services for the children of educators in the Glastonbury, CT school system. Through her work, Bea created life-long relationships with those she cared for over the course of 15 years. Soon after the birth of her grandchildren, Bea and Ron moved to the Boston area where Bea became a cherished volunteer at the Tucker Elementary School Library in Milton, MA. Affectionately known as "Nana Bea", her dedication to the library continued well after her grandchildren passed through Tucker, and was an adored member of the Tucker community. In 2018, she was recognized as Volunteer of the Year by the Milton Interfaith Clergy Association. Olimbia was well known for her fiery spirit, loving heart, and personable demeanor. These qualities allowed her to create countless close friendships in every place that she lived.
Given the current national health situation, dates for the Funeral service and Celebration of Life reception in Glastonbury, CT are still being finalized. The family will be back in communication once those dates have been determined.
In lieu of flowers and to keep Bea's spirit alive, please consider making a donation to either of the following places, which were very important to her – St. Nicholas Albanian Orthodox Church and the Tucker Elementary School Library. Please make sure to state these donations are in memory of Bea Filipski.
Her father, Nicholas George, was one of a group of Albanian immigrants who built the church in the 1920s. Bea began her journey through life here and made so many lifelong friends in Southbridge. You can mail a donation to The St Nicholas Albanian Orthodox Church Memorial Fund, 126 Morris Street, PO Box 650, Southbridge, MA 01550.
Bea's loving spirit was never more evident than in the many years she served as a volunteer at the Tucker Elementary School Library in Milton, MA. While there, "Nana Bea", as she was affectionately known, was a kind & positive influence on the lives of hundreds of children. The donations will be used to set up a memorial gift in her name. You can mail a donation to: Cathy Madigan, 382 Brush Hill Road, Milton, MA 02186.
If you prefer, you can also send a donation for either cause via PayPal at rjfilipski@gmail.com or Venmo at @RJ-Filipski.