Nicole Annette Eugene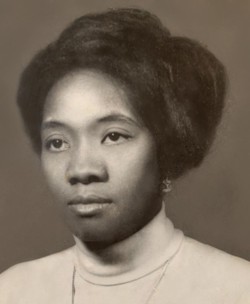 Born on January 11, 1938 in Port-au-Prince, Haiti, Nicole was the third oldest of nine children born to Alice and Leo Hans Gardiner.  She was raised in the Catholic church and she remained devoted to her faith throughout her life, regularly attending mass with her family and participating in the parish community.  Nicole attended culinary school in Haiti before marrying Robert Eugene and moving to the United States to pursue greater opportunities.  They settled in Cambridge, MA and welcomed with joy the birth of their son Hansy Eugene.  Nicole and Robert were the embodiment of hard-working immigrants.  In addition to being a nurse's aide at Fernald Development Center working with special needs patients, Nicole worked part time at various staffing agencies in order to generate extra income to pay for private school for her son.  Nicole would even volunteer at Bingo Night in exchange for a reduction in Hansy's catholic school tuition.
Nicole had a special talent for baking and was an extraordinary pastry chef.  She was often hired to bake wedding cakes.  Nicole had a flair for creating amazing wedding cake designs.  Nicole was sought after to cater special events and celebrations.  Nicole would often bake the most delicious patties that would have the entire house smelling like a bake shop. Nicole also loved traveling with her family and her church group.
Nicole's most impressive quality was her selflessness and how she cared and sacrificed for her family. Nicole never said no to friends and family in time of need. Nicole was always willing to give of herself.
In the fall of 1996, Nicole's son Hansy was admitted to the University of Massachusetts, Amherst but the school had exhausted its financial aid and indicated they would hold his admittance for the following semester when additional funds would be available for him. Nicole valued education and was adamant that Hansy not delay college not even for one semester. That same day he received his acceptance letter, Nicole went to her credit union and took out a personal loan to cover his expenses for the fall semester. Later, Hansy told his parents about the challenges of getting around campus without a car. The next semester Nicole gave her son her car to take to Amherst while she and her husband carpooled to work everyday.
Nicole is survived by her son Hansy Eugene and his wife April, one granddaughter Hannah, three brothers Jean-Robert Gardiner, Wilfrid Jean-Claude Gardiner, Alix Hans Joseph Gardiner and three sisters, Floance Marie Therese DeGanot, Marie Ghislaine Cyrille and Muguette Frantz Prophete. Her sister Rosenette Marie Jeanne Gardiner and brother Raymond Gerard Gardiner preceded her in death.
Nicole will be greatly missed by friends and relatives.
Funeral Services and Interment in Cambridge Cemetery were Private.