Mary Elizabeth "Betty" (Manning) Browne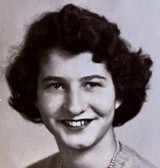 Mary Elizabeth "Betty" (Manning) Browne, 88, of Milton, passed away Saturday, May 9, 2020.
Born in Milton to the late John and Mary (Van Emden) Manning, Betty was a lifelong resident and a graduate of Milton High School class of 1949. She was a legal secretary for many years before staying home to raise her family. She returned to work as a teacher aide for the Milton Schools and many years later retired as the Assistant Town Clerk for the town of Milton. She was a tremendous athlete and skier, avid reader and incredible cook. Her greatest enjoyment was the time she spent with her family.
Loving wife of the late James R. Browne, Betty is survived by her beloved daughter Mary DiSandro and her husband Jeff and her cherished grandchildren James and Maeve DiSandro. Betty was predeceased by her siblings Robert, Eileen, Ruth, John (Brother Gilmary, O.C.D.) and Joseph Manning.
The family would like to thank the Celtic Angels for their invaluable help caring for Betty for the past few years.
Due to the restrictions of COVID-19, funeral services for Betty are private. A memorial Mass will be planned for a later date. Interment in Milton Cemetery, Milton.