Luicita Delores Heavey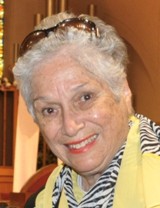 Luicita Delores Heavey of Milton, born in the Bronx, NY on February 14, 1933, she passed away serenely at the age of 87, in Quincy, MA on May 5, 2020, after visits with her children.
Luicita leaves her oldest child Maria North, her son Christopher Heavey and his wife Michelle, and a sister Cathy and her husband George Corcoran. She was the beloved Grandma to six grandchildren; Christina North, Christopher "CJ" North, Christopher "William" Heavey Jr., Katherine Heavey, Nicholas Heavey and Charles Heavey. She will be missed by her many nieces and nephews. Luicita was born to Joseph Guzman of Venezuela and Josephine (Lopez) of Trinidad, the second oldest of six children. She is now with her siblings Joseph, Carmen, Michael and Patricia. She graduated from Cathedral High School in 1951.
Luicita was a stewardess for Eastern Airlines, during the early days of commercial airline travel. It was during this time that she met her late and former husband William F. Heavey Jr. of Milton and his loving family; her future in-laws William F. Heavey Sr. and Zita Heavey. Luicita and Bill spent the early years traveling until they settled down in Milton, MA where they raised their two children. Later in life Luicitia lived in California to be closer to her mother and sisters. As her grandchildren arrived she moved back east first stopping in the Albany, NY area for eight years to be with her daughter's children and then returning to Milton, MA to be with her son's children. Luicita will be remembered for enjoying time with her friends and family, especially her childhood friend, Liz Prussak. Luicita loved to travel and visit quaint back country locations; she loved to visit the Berkshires.
Special acknowledgement to the kind and compassionate care that she received from Alliance Nursing Home at Marina Bay and her health team lead by Dr. Bernice Wong of Elder Service Plan/Harbor Health