Lola May Alexander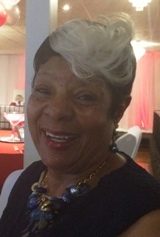 On the 29th Day of April, 2020; The Lord called our angel home, Ms. Lola Alexander, We lost an angel but Heaven gained one.
Ms. Lola Alexander was born on the 18th Day of January of 1951 in Monroeville County Alabama to the late Mr. Tommy Stallworth & Ms. Euline Kiles.
Lola settled in Boston in 1980 supporting her children as a Master Barber and Beautician, she was a teacher back home and a caretaker to her own children and many more. Her love for children came naturally, she was a devoted mother to all 6 of her children and opened her door to any and all children in the neighborhood; where she was known as "Ma", she had the gift of showing love and nourishing those who crossed her path.
Although Lola had a passion for cosmetology her true passion was serving the Lord, Lola welcomed the Lord at an early age and went on to attend and graduate The Global Exchange Christian University. Lola was devoted to serving the Lord and was a faithful member at The Greater Annoited Harvest Church in a Dorchester, where you could always find her on Saturdays for prayer and on Sundays for worship or combing the streets for lost souls as a Missionary and Community Activist. She was also a proud member of the Usher and Missionary Boards, Feeding the community and running a food drive. She was an active board member for Mothers for Justice and Equality and was also a dedicated member of the Boston Trauma Team.
Lola was great at any and everything she put her heart into and boy was she crazy about her children, grandchildren and great-grandchildren bragging and boasting every chance she got!!! She was an excellent cook; Man could she throw down in the kitchen cooking and baking, Oh and those signature sauces will surely be missed ( You never did give anyone those secret ingredients).
Lola not only opened her home she opened her heart to many, sending you off with a full belly and a load off your chest because she lended an ear when you needed to talk and with an open heart she would listen and she was great at giving advice and endless prayers. She would start her mornings with the daily bread and she always had great words of encouragement and endless faith in the Lord!
Lola, Our angel, our Mother, grandmother, sister, cousin, Our Friend, You will Forever Remain in our hearts!
We Love You Ma!!! Rest In Peace!
Ms. Lola Alexander was proceeded in death by her father: Mr. Tommy Stallworth, mother: Ms. Euline Kiles, sister: Mamie Jowers, daughter: Mary "Angie" Alexander, son: Kenya Alexander, son: Jamarr Alexander
Ms. Alexander leaves four siblings; brothers: Will Earl Hands, Alfonse Kiles, Sherman Moore; sister: Wanda Smith, three surviving children; Carla Elaine Alexander, Yalonda Alexander and Delrico Alexander, 12 grandchildren and 13 great-grandchildren and a host of other relatives and friends.