Frances E. McCarthy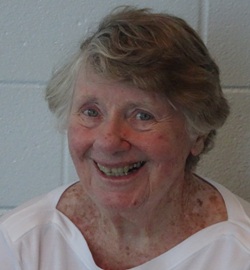 Frances "Fran" (Chisholm) McCarthy, 83, of Dorchester, formerly of Lynnfield for 49 years, passed away on April 30, 2020. She was the beloved wife of the late Francis "Frank" J. McCarthy for just over 51 years.
Born in Antigonish, Nova Scotia, Canada, on January 30, 1937, she was the ninth child of Jack and Sadie Chisholm. She had seven sisters (Isabel, Ruth, Jean, Ann, Mary, Elizabeth and Mora) and five brothers (John, Leo, Lauchie, Joe, and Drew). Antigonish was a vibrant university town, with St. Francis Xavier University (StFX) at its heart. Her father ran the town shoe store on Main Street, and her mother ran the household on Highland Drive and took care of the children. Frances' family nickname was "Sam." She was very proud of her Canadian and Scottish roots, proudly displaying the Chisholm tartan whenever she could.
Frances graduated from high school after grade 11 which Nova Scotia schools went to in those days. She then attended and graduated from StFX with a Bachelor of Science degree in 1958, with a focus on dietetics. Frances next made the journey to Montreal, Quebec for a dietetic internship at the Royal Victoria Hospital. Around this same time, she also spent her summers working at a camp for diabetic children. After her time in Montreal, she headed "home" to Halifax, Nova Scotia to work.
A few years later, she moved to Boston to work as a dietician at Massachusetts General Hospital (MGH). Work at MGH was rewarding and tough, working split shifts and having to be at the hospital for meal times. Frances joined a Catholic young person's club during this time, with summer outings on Cape Cod and skiing in New Hampshire in the winters. It was at one of these events that she met her future husband, Francis "Frank" McCarthy, a psychiatrist. After a few years of dating, Frank hurried back to Frances from a ski trip in Europe to propose marriage to her.
Frances married Frank on July 1, 1967, the centennial of Canada's Confederation, in Antigonish, Nova Scotia. Frances, a seamstress, made her own wedding dress. Before her marriage, Frances quit her job at MGH, and she recalled that a symbol of her quitting was tossing her work shoes in the trash. Fran and Frank had two honeymoons, one in Bermuda and one travelling by car across the United States.
They made their home in Dorchester, Massachusetts for the first three years of their marriage before moving to Lynnfield, Massachusetts in 1970. There, they brought up their three children, Eileen born in 1968, Edward "Ed" born in 1970 and Andrew "Andy" born in 1973. Frances volunteered for many different organizations, including the Massachusetts Medical Society's Women's Auxiliary. Through Catholic Charities, she mentored and was a friend to young women with children and elderly women. She also taught CCD for many years through her local parish.
The family travelled often including trips to Europe in 1972, Jamaica, the Dominican Republic, California, Florida, Arizona, a ski vacation to Chamonix, France which included some time in Milan and Paris, a vacation to London, and another ski vacation to Davos, Switzerland among many other trips. Once the kids left home, Frances and Frank continued to travel with trips to France, London, Philadelphia and Washington, D.C. among other places. Frances loved to travel with Frank and the kids, and she was usually patient during these trips despite Frank's multiple hour long diversions to see some ruins or his penchant for arriving in a city without a hotel reservation.
Frances was a talented knitter and did extensive needlepoint. She leaves a legacy of cozy sweaters, hats and mittens. Later in life, she took up painting which became a passion. She also loved baking and cooking for her family and friends including her scrumptious brownies. Frances taught her children how to bake and cook.
Frances lived a full, rich life. She had many friends, near and far, some of whom she knew for decades. She spent time with them at art museums as an MFA member, going to lunch, at dinner parties and playing scrabble. She loved to read, especially mysteries and Canadian authors, and was an avid patron of both the Lynnfield Public Library and the Rockport Public Library.
Frances was always smiling and was ready for a laugh at any moment; she brightened every room she was in. She relished her times with her husband and children especially at the family summer home in Rockport, Massachusetts. It was there that she truly felt relaxed and at home. Each year, she looked forward to the move there for the summer. Frances will be missed by all who knew her.
In addition to her three children, she is survived by Eileen's husband Jason Cakouros, and their children, Anna and Drew, Ed's wife Nicole and their child Maggie, and Andy's wife Melissa, and their children, Fiona and Callum. She is also survived by her sisters, Isabel, Ann, Mary, and Mora, her brothers, Leo and Drew, and many nieces, nephews, grand-nieces, grand-nephews and cousins.
A private service will be held followed by interment at Holyhood Cemetery. A memorial service to celebrate Frances' life will be organized at a later date when it is safe to gather as a group.
In lieu of flowers, a donation in the memory of Frances McCarthy may be made to the following organizations: Lynnfield Public Library, 18 Summer St. Lynnfield, MA 01940 (https://www.lynnfieldlibrary.org/) or to Thacher Island Association, P.O. Box 73, Rockport, MA 01966, (https://thacherisland.org/).