Angelaine Lorfils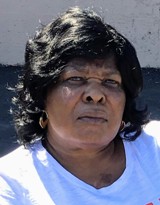 Angelaine Lorfils, age 70, passed away on Wednesday, May 6, 2020, at Boston Medical Center due to heart failure. She was born November 28, 1949, in Saint-Louis-du-Nord, Haiti, to Lefaite Lorfils and Getride Jefwa. Angelaine is lovingly remembered by her life partner Faustin her children: Erlande, Addie, Edith, Oliver, Evan, Deramise, and Patrick; her grandchildren: Nelson, Quentin, Shemar, Anjalequa, Adoni, Abigail, Eva, Morgan, and Maurissa, and her brother Sejour
Angelaine was an honest, hardworking woman. She loved life, her family, and her friends fiercely. She loved to cook, a good flea market, road trips, and shopping. She had a great sense of humor, loved to laugh, and loved making everyone else laugh. She was a kindhearted woman; it was not uncommon for her to take in families that were struggling and help them get back on their feet. Her embrace and presence will always be cherished.
Family Recipe
By: Anjalequa Leynneyah Verona Birkett
You know many, many years ago
A writer sat upon a mountain top
And wrote these words
Whilst a kitchen and its ingredients are transformed into paint and a canvas,
A woman, hums melodies and songs that lift her feet so graciously to floor would be
Honored to feel their touch;
Whilst lemons and sugar mingle with each other,
A family is made behind cold watery pitcher;
Whilst cloth and plates and glasses and silverware and bodies interact within a table,
Memories, laughter, and love are consumed;
Whilst a meal continues, a lonely yet gentle Angel called out for her mother,
And touched her heart and said: I'm okay, but I need you, and I miss you and God has
A beautiful spot here for you;
Right next to me where we both can look down at our loved ones and remember
The times we had together, and witness the times they do
Whilst a meal continues, a lonely yet gentle Angle called out for her mother,
And touched her heart and said: it may be too early, it may be too soon,
But your legacy and your life will be reminisced for years to come;
And said: the war you prayed so long and so hard to be over will conclude
The children you left behind are strong and will get better
The grandchildren you left behind will succeed and make you proud
The faces and the love stained upon them will take this time,
This moment,
This mourning, as a blessing in disguise,
As He heals the brokenhearted and binds up their wounds they
Will understand these words are a recipe for family;
Music, food, and love is all they've ever had; and the power and affection transferred
From your existence to the deepest part of their soul created a flavorful outcome.
Whilst I hugged her and rest upon her chest for the first time,
She gave to me the strength, and the permission to remind you all that
When peace is like a river, attendeth my way,
When sorrows like sea billows roll
Whatever my lot, thou hast taught me to say
It is well, it is well, with my soul