Adele Gilmore Simonds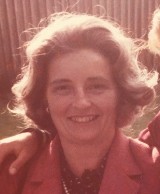 Adele Gilmore Simonds, of Brookline, passed away after a brief illness on April 30, 2020 at the age of 88.
Known as Dele for short, she was born in 1931 to Edna Ryan Gilmore and Robert Owens Gilmore of Quincy, MA. She was educated at Milton Academy and graduated from Radcliffe College in 1953, where she was senior class president and later served as Class Marshall. After college, she studied at the University of Perugia in Italy and traveled extensively while working as a journalist for The Patriot Ledger, Quincy, MA, writing feature articles from Lebanon, Syria, and Egypt regarding political issues in the Middle East. She returned home to attend Harvard Law School, graduating in 1958 as a member of one of the school's earliest classes of women.
After law school, Dele worked as an attorney for the Boston Legal Aid Society. She also worked for friend Boston Mayor Kevin White, helping draft legislation regarding campaign finance transparency. She was a member of the Massachusetts Bar Association for almost 62 years, remaining an active member right up until her death.
Dele was a lifelong avid reader, especially of newspapers. Even as a girl, she had the New York Times delivered to her cabin at summer camp. Known for her ability to quote statistics from memory to support her political arguments, she was a staunch Democrat. Her advocacy for the ideals of the Democratic Party once inspired her law school friends to secretly plant in her parents' backyard a casted concrete headstone that read, "Here Lies the Republican Party 1956".
Dele made friends everywhere she went due to her boundless energy, love of laughter, and sincere interest in other people. She was strong minded and adventurous. She loved her family fiercely, and her greatest joy was in being a mother and grandmother.
Dele was a member of the Vincent Club in Boston, MA, the Prouts Neck Country Club in Scarborough, ME, and the Longwood Cricket Club in Chestnut Hill, MA.  She was predeceased by her former husband, Daniel Simonds. She is survived by her beloved daughters, Elizabeth Thompson, of San Diego, CA, Nina Trowbridge, of Cape Elizabeth, ME, and Holly Simonds, of Boston, MA, her sister Cissie Ix, of Greenwich, CT, six grandchildren, and many nieces and nephews.
In lieu of flowers, donations can be made to the Harvard Legal Aid Bureau, 23 Everett St #1, Cambridge, MA 02138 or www.harvardlegalaid.org