Virginie Auguste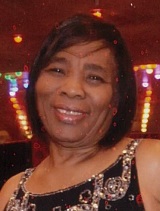 Virginie Auguste (affectionately called "Nanne"/"Ninnie"), born Virginie Maumus, died peacefully on April 23, 2020 in Abington, Massachusetts at the age 74.
She is survived by her four children: her daughter Marie Miyonne Dorestant, sons Richard Auguste & wife Sara A. Fernandes, Pierre Auguste & wife Marie Ruth Auguste and daughter Sadia Auguste Girault, grandchildren: Gregory Dorestant, Pierre Robert Dorestant, Yveline Esna, Rashelle Noncent, Hasadiah Girault, Javen Girault & Evan Auguste, sister: Julienne René & husband Homere René, brother Ernest Anglade & wife Adly Anglade, nieces: Magalie René, Miriam René, Angie Marsan and Stephany Anglade, sister-in-law: Yella Lapierre, brother-in-law: Charlesira Sadira and eight great-grandchildren. She is preceded in death by husband: Vilaire L. Auguste, mother: Isabelly Maumus, brother: Jean Joseph Lapierre, sisters: Anita Sadira & Lyvia Francois and granddaughter Pierrette Dorestant.
Virginie was born in Aux Cayes, Haiti and completed her schooling at the Sisters of Saint Anne School. Upon completing her studies, she left Aux Cayes and moved to the nation's capital city of Port Au Prince in search of better job opportunities and quality of life. It was there, while working as a crocheter, that she would meet her future husband, the late Vilaire L. Auguste, responded to the calling from God for baptism, and became a member of the congregation at Temple Adventiste in Port Au Prince. She and Vilaire married on April 9, 1970, and shortly after, left Haiti to begin their new life together in Boston, Massachusetts. They subsequently welcomed their four children into their home and would raise them under the umbrella of two overarching themes: the importance of education and a personal relationship with God.
Virginie would study and obtain certificates for work as a professional secretary, as well as a CNA certificate to work as a nurse's aide. She would go on to spend the next several decades caring for the sick and shut-in as a CNA for The Hebrew Rehabilitation & Nursing Home, and most recently, at Fox Hill Village in Westwood, MA. Her ability to nurture, cheer, and connect with people carried over to her many ministries in church. Her truest joy was serving God in the many capacities for leadership that her church life presented. She loved the youth, championed for women, and advocated for thriving Christian family homes. She presided and membered many tenures with the Women's and Family-life ministry, and Sabbath school departments at the Berea SDA and Temple Salem SDA churches in Boston, MA, the Bethel French SDA Church in Riviera Beach, FL, and the Ben Emmanuel SDA Church in Randolph, MA. Known for her passion, excellence, and dedication, Virginie was recognized by the Southeastern SDA Conference and presented a plaque of appreciation for her distinctive work in the Women's ministry department. This was amongst the many accolades presented to her by various church leaders in the decades she served the church under these initiatives.
Virginie was a second mother to many, a melodic songbird who loved to worship and entertain in song, a skilled organizer and phenomenal creative, an enchanting host who swooned dinner guests with an unforgettable smile and knack for cuisine. Her favorite song was French Hymnal #503, "Ô toi qui donnes la vie (O You who give life)", and favorite scripture was Psalms 91. Her work is done on Earth, and now is in complete rest. Virginie's spirit, leadership, determination and zest for life is how she will be most remembered.
Funeral services will be held privately in accordance with #safeathome guidelines, but video will be made available to the public. In lieu of flowers, please send donations to Dolan Funeral, 460 Granite Ave, Milton, MA 02186