Violeta Barber-Russell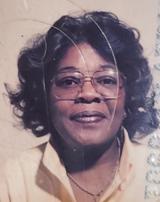 Sadly, Violeta "Nena" Barber-Russell traveled home to be with the Lord on April 14th, 2020.
Violeta Barber-Russell, born January 14th, 1934 in Panama City, Panama, a daughter of late Ida Iona Failey, and William Russell, and Step-Daughter of Nathaniel Failey; she Immigrated to the United States in Brooklyn, NY in 1968 where she worked at Brookdale Hospital. A few years later she moved to Boston, MA and started working at Polaroid, and retired in the year 2000. In 2002 she moved to Panama to continue to enjoy her retirement.
In 2012 Nena moved in with her daughter in Boston, Ma to be closer to family. Soon after she became ill. As a result she needed 24 hour cares; and she was able to get that at Benjamin Healthcare Center.
Nena was very creative making ordinary thing become personal to her by recreating them, she loved to sew her own clothing, she enjoyed decorating and she was very self-conscious about her appearance in public. She also enjoyed caring for plants.
Nena is survived by her brother Carlos Russell, Daughters Violeta "Sally" Marchan, and Gloria "Cookie" Barber. Her Nephews; Jaime Russell, Carlito Russell, Jarro Russell, and Guillermo Russell. Her grandchildren; Ayoka Marchan, and Ernesto Barber. Great-grandchildren; Kanisha Stewart Kennedy, Kenya Stewart Hill, Kiara Stewart Hill, Kiara Stewart Christie, Keon Stewart Christie, Iyantai Marchan, Ayodeji Marchan, Jahsim Marchan Jackson, and Ashely Campbell, and Great- Great grandchild Zion Campbell.
Violeta "Nena" Barber-Russell will join her deceased Nephew Ernesto Russel and Grandson Kevin Stewart to rest in peace.
Till we meet again my African violet…..