Raymond D. Ryan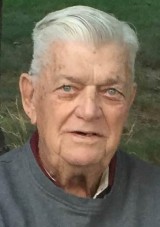 Raymond D. Ryan, 90 of Foxboro, OFD, peacefully passed away at his home on April 15, 2020.  Devoted husband of the late Patricia (Buchanan) Ryan.  Beloved son of the late David J. and Dorothy F. Ryan.
Loving father of Maryellyn Brown and her husband Michael of Hyde Park, the late Kevin Ryan of Foxboro, Florence Peleckas and her husband Ray of Foxboro, Patricia Mourtada of Hyde Park, Gail Bello and her husband Charles of Bellingham, Honora Morris and her husband Brian of Weymouth. Cherished grandfather of Keri and her husband Roland, Shaun, Raymond, Stephen, James, Ashley, Isabelle, Zachary and David. Great-grandfather of John Raymond.
Ray is also survived by his loving sisters Barbara Carr, Valerie Barry and her husband Brian, sister-in-law Nancy Ryan, his late brother David J. Ryan Jr. and his late sister Mary Dorothy Ryan. He loved and is loved by many nieces, nephews and extended family members.
What mattered most to Ray was his family. His unconditional love for his children and grandchildren overflowed. It didn't matter what the circumstance, Ray's kind and generous manner made him available to those around him whether by lending a hand, giving sound advice, being a sounding board or helping someone out of a jam, he could be counted on. He and his beloved wife enjoyed traveling to many tropical destinations as well as visiting historical sites. He was an avid reader and somewhat of a history buff. His family enjoyed his quick wit that remained until his last days.
Ray served in the United States Navy, on the USS Albany, during the Korean War. He retired after 40 years as a lead lineman with the Boston Edison Company in Hyde Park and was a proud member of the Utility Workers Union of America.
Burial is private and a Celebration of Life will be announced at a later date.