Marie Yvette St. Fleur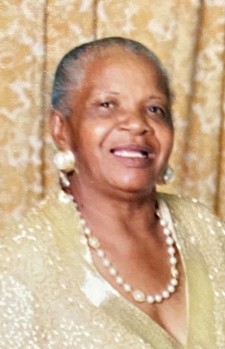 Born on October 13th, 1934 as Marie Yvette Glorieux in Port-au-Prince, Haiti. She was the cherished daughter of the late Cléoda (Damas) Sénat, wife of the late Sergeant Maurice Sénat (devoted stepfather) and her father the late André Glorieux. Yvette was the beloved wife of the late Dieujuste St. Fleur, whom she met in Haiti and loved for 51 years, and brought forth nine children with.
As the matriarch to our family, Mrs. Dieujuste St. Fleur was known as Mammie to all. She shared an unwavering bond with both her late stepfather and mother, husband, children, siblings, nephews, nieces and others that crossed her path. La Madré, Manman, Poule la and Véto are just a few of the endearing nicknames she held.
Respected by many, Yvette will be memorialized as a loving, caring, kind resilient and strong woman. She had a heart of gold and it showed. "Toute zanmi nous te pitit li!" -All our friends were her children. She was a woman of integrity and dignity that was also modest, humble, passionate and giving.
Sadly, our loving Madré departed this earth on Thursday, April 16th, 2020 to be with our Lord and Savior. We have gained a wonderful angel and she will be immensely missed.
Yvette is survived and preceded by:
Husband
The late Dieujuste St. Fleur
Children
Eddy St. Fleur and wife Myrtha (Cajuste) of Hyde Park, MA
Stevenson St. Fleur of Port- au- Prince, Haiti
Nixon St. Fleur and wife Olga (Paul) of Danvers, MA
Marie Frantz (St. Fleur) and husband Eugene Emmanuel of Stoughton, MA
Carline St. Fleur of Canton, MA
Gary St. Fleur of Port-au-Prince, Haiti
Myrlene (St. Fleur) and husband Peter Caruso of Brockton, MA
Marie Flore (St. Fleur) and husband Ernst Guerrier of Canton, MA
James St. Fleur and wife Rosangela (Depina) of Bridgewater, MA
Siblings
The late Désil Glorieux
The late Marie Thérese (Glorieux) Sydney
Calidad Sénat of Stoughton, Ma
Nirva Sénat of Brighton, Ma
Guy Sénat and wife Marie Carmelle (Benoit) of Bridgewater, Ma
Grandchildren
Junie, Irvin, Gary Jr., Christina, Edens, Stephanie, Daryl, Jessica, Melissa, Jonathan, Syrrita, Javel, Dexter, Carrington, Kathleen, Kevin, Christopher, Chloe, Teddy, Camryn, Jamina, Bionca, Jennifer, Christa, Matthew, Nick, Myles, Ethan, Mayange & Averie; Stephanie & Nathan
Great-Grandchildren
Lucas, Malakai, Navaeh, Tori, David, Athalia, Abraham, Ezrah, Nasir, Jacob, Paris, Jaxson-Lee, Olivia, Aiyana, Faith, Cj, Dylan, Khylee, Kaesen & Makensley
Many loving nephews and nieces as well as the following families: Sénat, St. Fleur & Sydney; Cajuste, Caruso, Damas, Dabel, Depina, Emmanuel & Guerrier as well as Annulysse, Benoit, Charles, Cherilus, Dorestin, Francois, Gomes, Guerrier-Philippe, Guillaume, Jean, Jeanty, Jeudi, Maceus, Magny, Laguerre, Lyncee, Paul & Pierre-Louis.
We would like to express a heartfelt thank you to the entire staff of the Sherrill House Nursing & Rehabilitation Center for the wonderful care that they provided to our loving mother. Thank you to all our extended family and caring friends for your words of comfort, prayers and support.
Dearest Manman,
May God open his loving and heavenly arms to you, as that is where you belong.
Rest in Peace from all of us!
Due to the strict restrictions of Covid-19, the funeral will be private and a Celebration of Life Memorial will be announced at a later date.