John J. "Jack" Regan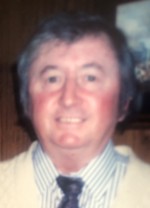 7/14/36 – 4/07/20
After bravely living with the repercussions of multiple strokes for over fifteen years, Jack Regan, 83, passed away from cardiac arrest at his home in Randolph, MA on April 7th. He leaves his beloved wife of over 30 years, Maryam (Mansouri) Regan, who stood by his side providing around-the-clock love and care. They had a wonderful marriage that included travel, learning about other cultures, outdoor concerts and, of course, spending as much time as possible on the beach. Even after his physical limitations worsened, together they would continue doing one of Jack's favorite activities – soaking up the sun at Houghton's Pond or Nantasket Beach.
Son of the late Murray Regan and the late Marie (Hannigan) Regan of Blue Hill Terrace in Milton, Jack leaves his older brother Murray, younger brother Mike and sister-in-law Ellen and youngest brother Paul and sister-in-law Bev. He also leaves his dear cousin Pat (Dwyer) Dawson who was like a sister to him. In addition, he leaves three children; daughter Teresa Regan, son J. Joseph Regan and daughter Jennifer Toomey and her husband Jim, as well as, four grandchildren – Carley Regan Bowering, Jule Regan, JT Toomey and Cara Toomey.
Being the free-spirit that he was, Jack could not conceive of a career in a corporate office. Instead, after graduating from Milton High School and fulfilling his obligations in the Army Reserve, he proudly worked as a groundskeeper for the Town of Milton for over 40 years. In his younger days, Jack was always in motion. He loved to run and was a standout star on the high school track team. He would go with his brothers to the Boston Athletic Association's track meets where some of the greatest runners in the world would come to compete. Jack also loved to skate and took to the ice like a duck to water. One of his favorite pastimes growing up was practicing shooting and his talent landed him as co-captain of his high school hockey team. A die-hard Bruins fan and avid watcher of college games, Jack's love of hockey would last a lifetime.
Whether breathing in the ocean air at his most favorite place in the world, Green Harbor Beach, or appreciating wildlife in the woods of the Blue Hills, Jack loved nature. One of his greatest legacies to his children was a profound wonder and respect for the natural world. Jack loved all animals whether they had scales, feathers, or fur and all the family pets were rescues from the Milton Animal League. He also loved movies and was known to see two or three in an afternoon – often at a great discount. Jack was infatuated with mystery and loved the topic of outer space and the possibility of extraterrestrial life. Whenever driving the winding Chicatawbut Road at night, Jack always encouraged his kids to be on the lookout for Bigfoot.
Often the life of the party, Jack loved to have fun. He was co-founder of the Labor Day Pearl Street Block Party which is still going strong today. He deeply enjoyed music, especially Irish bands like the Kingston Trio and the Clancy Brothers, and would happily jump up on stage to belt out a rendition of Oh Danny Boy or Wild Colonial Boy. Whether heading to the Gurnet Inn on a beautiful summer day or playing a game of baseball with the bases drawn in sand, there was always a laugh to be had. Jack was a wonderful storyteller, especially those of the scary persuasion, and would keep his young audiences on the ends of their seats while they munched penny candy from the general store.
Despite his own declining health challenges, Jack would always have the same parting words to end a conversation, "You Have A Happy Day!" When safe to do so, a memorial service honoring Jack will be held in Green Harbor. In the meantime, for those wishing to make a donation in his name please consider Friends of the Blue Hills. This non-for-profit organization was formed over 35 years ago to preserve and protect the Blue Hills Reservation in its natural state. The website address is Friendsofthebluehills.org/support and the mailing address is P.O. Box 416, Milton, MA 02186.