Elaine (Sullivan) Barry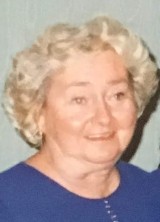 Elaine (Sullivan) Barry passed away peacefully with her family on the phone telling her how much she was loved on April 14th, 2020.
Elaine grew up and lived her entire life in Dorchester, spending her time as an active member of Saint Gregory's Parish (lector and bingo volunteer) and as a teacher for over 20 years at Saint Gregory's elementary school. She grew up attending Saint Gregory's through High School making lifelong friends who are too numerous to name individually. She went on to graduate from Boston Teachers College starting her career teaching kindergarten in Quincy Ma before taking time off to raise her two sons and take care of her mother, Kathryn Sullivan. She enjoyed visits to Lake Boon, Maine, Cape Cod, and Scituate, enjoying her time with family and friends. When at home, she enjoyed many social gatherings with her life long friends and attending various family events. She was a devoted wife who spent the last 6 years as a caregiver to her husband. Her two granddaughters, Kathryn and Abigail, were the love of her life. Elaine always lit up the room with her enthusiasm and love of life. She was well loved by all who knew her and will be very much missed,
Elaine is survived by her husband Joseph of 58 years, her two sons Joseph (Suzanne) and Richard, her granddaughters, Kathryn and Abigail, her first cousin Kathy Donnellan (and family) and her sister in law Marjorie Foster (and family).
A Mass will be scheduled at later date.
We would like to express our thanks and appreciation to the devoted doctors and nurses who took such good care of her at Beth Israel Deaconess Hospital. In lieu of flowers contributions can be made to Saint Gregory's Parish, 2215 Dorchester Ave, Boston, MA 02124.