Edward A. Anderson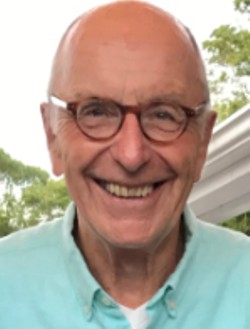 Edward A. Anderson, 79, of Hull, MA formerly of Readville, MA, and Dorchester, MA April 3.
Beloved son of the late Norman and Ruth Anderson. Devoted husband of Diane (Ferland). Loving father of Denise and Jason Permatteo and children Mireille and Andrew of Leominster, Jill and Chris Miller and son Arthur of Quincy, and Erik Anderson of Quincy. Loving brother of Elizabeth and Bill Hurley of Braintree, and Bill and Renee of South Carolina. Loving uncle of Alison and John McDonough and children Eamon and Mary Elizabeth of Foxboro, and nephew the late Matthew Hurley. Also survived by several other nieces and nephews.
Ed spent several decades working in the magazine business, most recently at Boston Magazine. An avid runner, he could be seen running Nantasket Beach several times a week up until recently. Eddie loves nothing more than a round of golf, Frank Sinatra, a good book, and a cold beer. But mostly he loved his family and many, many friends.
A celebration of life will be planned at a later date.