Curtis Baptiste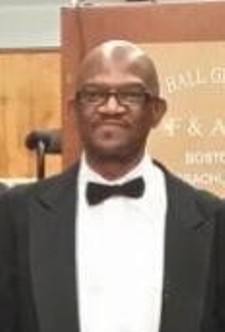 Everybody loves Curtis and always will, because he will never be thought of in the past tense in our collective memories.
The first thing you ever noticed about Curtis was his dazzling, wide smile that lit up his eyes, followed by the warmth of his greeting and loving embrace. His persona filled the room. He saw the best in everyone, and quickly befriended many he encountered along the way.
Curtis possessed a wicked sense of humor and, in his distinctive Trini accent, would say, "Where allyuh does find dese people?" Highly intelligent and with a proclivity for debating, his favorite shut-it-down colloquial phrase, referencing the late Queen's Consul Bruce Procope was, "Procope, wine up case."
Alternatively, when he strongly disagreed with someone, he would say, like the Headmaster in charge, "I dismiss," and on this note, would crack himself up.
Ever the perfect English gentleman, he would end a discussion with, "We shall further consult!"
Blessed with a brilliant mind, he also loved reminiscing about the poems that were taught in school in Trinidad while growing up, and he did so with a view to pointing out the not so obvious and the absurd. While most children would just mechanically recite poetry, enjoying its rhythmic cadence, Curtis would critically analyze each word to achieve greater understanding and arrive at an academic conclusion. One such poem was "The Naughty Boy" by John Keats, the subject of which Curtis surmised was "real, real chupid" to run away from Scotland to England only to discover that everything was the same: The grass was not greener on the other side. The poem went thus:

"There was a naughty boy/and a naughty boy was he/He ran away to Scotland/The people there to see/Then he found/That the ground/Was as hard/That a yard/Was as long/That a song/Was as merry/That a cherry/Was as red/That lead/Was as weighty/That fourscore/Was as eighty/That a door was as wooden/As in England/So he stood in his shoes/And he wondered/He wondered/He stood in his shoes/And he wondered."
THE EARLY YEARS
Most of Curtis' stories usually revolved around his boyhood years growing up in the town of Los Bajos in South Trinidad and spending the "August holidays" or summer with his great aunt in Arouca.
His aunt, June, fondly remembers a time he came to visit them down south in Dally Village, Santa Flora, when she played a prank on him. While brushing their teeth, each holding an enamel cup filled with water, she told him to throw the cup into the bushes, and he immediately complied to his detriment. He may not have gotten the "cut tail" as was the norm when kids misbehaved or broke the rules, but was perhaps reprimanded sternly enough to learn an invaluable lesson: "Waste not, want not!"
Curtis was associated with bringing "Big Fun" into their lives, according to his aunt Marlene, who recalled the thrill of him visiting the family when they made the move to Arouca opposite his great aunt's house. That "Big Fun" entailed eating plums prepared in various ways: Preserved plums soaked in a seasoned brine; plump ripe, juicy plums; or green plums dipped in salt and pepper to tickle their palates. It was "Big Fun" whenever Curtis came around, from exciting start to exciting finish!
ALL ABOUT FAMILY
Curtis was a family man who loved his wife of 38 years, Pat, children Abeni and Jade, and his granddaughter Jada dearly and he spoiled them unapologetically.
His wife's favorite memory was of their last vacation to Costa Rica in 2018 where they were able to spend two weeks exploring the island. Ever the good sport, Curtis even indulged in a mud sauna and volcano steam room with her. The last family vacation to Cape Cod where they all just hung out and walked on the beach together was another fun-filled experience.
The bond between husband and wife was strong and enduring, with Curtis always serving Pat wine in a special glass, even when, for her, a regular glass or paper cup would have sufficed. When it came to music, their paths veered in diametrically opposed directions, with Pat preferring Neo Soul and Curtis, Trini-to-de-bone that he was, fully immersing himself in Calypso and Soca! He never failed to remind her, because of her taste in music, that she was not a "True Trini."
Abeni recalls her father picking her up after school and taking her to the Franklin Park Zoo on many occasions. His children meant the world to him and he would never fail to expound on their accomplishments, with specific reference to Abeni's professional path and Jade's globetrotting escapades promoting his music. Jade's greatest source of pride comes from knowing that his father was his biggest fan and played his mixes, while driving, exclusively.
Jade accompanied his father to Caribbean Carnival celebrations in Boston, New York, Virginia and Trinidad over the years, including all gigs and the Steelband Panorama Competition. Jade, a panyard and music enthusiast like his father, has a vivid recollection of visiting a panyard with his father in 1995. Curtis introduced Jade to the steelband in 1995 and thanked his father often for his direction guidance, and nurturing nature.
While Curtis loved all his family members equally, his family's joke, upon the birth of his beloved granddaughter, Jada, was that he acted as though he had the last grandchild on earth. He was known at her school as the "field trip" grandfather. If he hadn't seen her for a couple of days he would call her and always ended the conversation with "love you." Sundays were especially set aside for grocery shopping, and Jada recalled one of her favorite memories of him buying her popcorn kernels that he popped in the microwave immediately upon their return home. Another was an act of compassion he exhibited during a vacation to New York to visit the Wax Museum a couple of summers ago: He gave money to a homeless woman who told him she was unable to feed her children.
ACADEMIC & PROFESSIONAL ACCOMPLISHMENTS
Although not one to tout his own accomplishments, Curtis was a genius and family mathematician, who loved doing Sudoko (buying The Herald and New York Times for that specific purpose) and keeping up to date with events taking place in the beloved country of his birth, Trinidad.
His brilliant mind was also the repository of biblical doctrine, having grown up in the church where his grandfather was a pastor. As such, he was ale to quote scripture with consummate ease.
He attended the Palo Seco Secondary School in Trinidad, later immigrated to the United States with his family as a teenager, and was subsequently enrolled at the Boston High School. After graduating from Northeastern University he began an internship at General Electric where he worked his way up to the position of Mechanical Planner and enjoyed a 40-year career. He also tutored high school students at Beverly High School during his internship.
Curtis became a member of the John T Hilton Lodge in 1997 where he served consecutively as Worshipful Master from 2001-2003 and 2015. His decision to join the Lodge was prompted by his desire to engage in a meaningful endeavor on weekends.
He leaves to mourn his wife, Pat, children Abeni and Jade, granddaughters Lovina and Jada, brothers, Leslie and Ronald, sister, Hazel, aunts Lorna, Merle, June and Marlene, uncles Tony, Mervyn, Yoland, John and Monty, nieces, Andrea, Ayana, Tamara, Sophia, Stacey and Kerrie, nephews Anthony, Kevin, Joseph, Jonathan and Joshua, mother-in-law Mazie Marchan and a host of others including aunts, uncles, cousins, brothers-in-law and friends.
May he rest in Eternal Peace until we meet again.
A private service will be held followed by interment at Cedar Grove Cemetery.