Celestine Johnson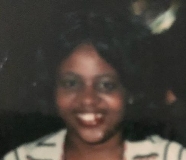 Celestine Johnson was born in Summerton, South Carolina on August 14, 1953 to Elex V. Johnson and Gaynell Johnson (deceased). Vennie Johnson (step-mother, deceased). Celestine departed this life after a long illness, and went home to be with the Lord on April 22, 2020.She was the seventh sibling out of ten.
Celestine aka Sal-Soul graduated from Dorchester High School in 1972 and later was employed as an Administrative Assistant in Retail Business.
Sal was always happy and loved to sing, especially songs by Aretha Franklin and Tina Marie, she named one of her daughters Tina Marie. She named her oldest daughter, Valerie after a dear friend of hers because she loved the name. She loved her daughters, Valerie and Tina and her grandsons Dashiel and Myles. They always brightened up her day when they were in her presence that brought smiles to her face.
She will be remembered as a joyous and loving mother, nurturing grandmother, beautiful sister, a caring Auntie, cousin and friend.
Celestine leaves behind many to cherish her memory; these include her daughters, Valerie and Tina, grandsons Dashiel and Myles. Aunt Gussie, sisters Dorothy Allen (Charles), Edith Johnson-Lynch, Christilee, Jeanette, Pamela and Lisa Johnson. Geneva McElroy, and Alma R. Johnson, and brother Elex (Bubba) all deceased.
Nephews: Kevin, William, Gregory, Troy, Leon, Darrell, Dana, Atiba, Lamonte, Jamal, Damien, Marquis, Mikias, and Michael. Her Nieces Rhonda, Kim, Shannell, Yolanda, Felicia and Qiana. A host of aunts, uncles, cousins, great nieces and nephews and friends.