Ana Rosa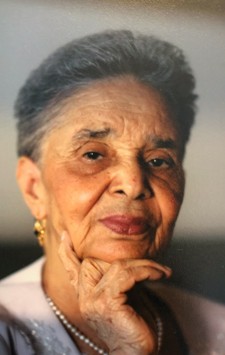 Ana "Olinda" Rosa, 97, of Roxbury, MA, passed away on Tuesday, April 28, 2020. 
Born in the Joao Garrido region of Fogo, Cabo Verde, she was the daughter of the late Gertrudes Maria Fidalgo and Egidio da Luz Teixeira, and was known lovingly by all as Tia Olinda.
Olinda was the beloved wife of the late Francisco Antonio Rosa. She was the devoted mother of the late Joesina DeBarros and her husband Bartolomeu, Francisco Rosa, Jr. and his wife Isa, Gertrudes Barros and her husband Bartolomeu, and Manuel Rosa and Liliana Fidalgo. She is survived by her thirteen grandchildren and two great-grandchildren whom she loved dearly. Olinda was one of twelve siblings, the youngest of the seven daughters. She is survived by her siblings Joao DaLuz Teixeira and his wife Bella, and Joaquim DaLuz Teixeira and his wife Maria.
A respected elder in the Cape Verdean Boston community and a loyal member of St Patrick's church in Roxbury, Olinda leaves behind a host of relatives and friends who will cherish in her memories.
A memorial service to celebrate the life of Olinda will be organized at a later date when it is safe to gather as a group.
In lieu of flowers, a donation in the memory of Ana "Olinda" Rosa may be made to the Casa Madre Teresa Foundation.
Interment at New Calvary Cemetery.