Phyllis C. Connolly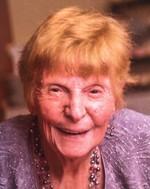 Phyllis Catherine Connolly, age 90, passed away peacefully surrounded by family at home on Wednesday, March 18, 2020 after a brief illness.
She was born in Boston, MA to the late Thomas and Helen (Cleary) Belton. She is predeceased by her husband of 59 years, Francis J. Connolly (Retired BPD), sons Robert and Stephen Connolly, brother Thomas Belton and sister Helen Murphy. She is survived by her daughter Joan (Bill) of Holden, sons Kevin of Coconut Creek, FL, John (Mary) of Milton, and Paul (Stacey) of Weymouth. She leaves behind nine grandchildren, six great grandchildren, and many nieces and nephews.
Phyllis graduated from Boston Girls' High School in 1947. She was employed in her teens by Jordan Marsh. She married the love of her life, Frank Connolly whom she met roller skating as a teenager, on May 20, 1951. Together they started their family of six beloved children in Roslindale. In the 1960s, they outgrew their home and relocated to Milton. Phyllis was employed as a bookkeeper for many years at various companies including Drakes, Field Insurance, Wright and Ditson, and finished her career at Curry College in Milton.
Phyllis was most happy when surrounded by her children, grandchildren and great grandchildren. Phyllis was a talented artist painting numerous oil paintings and portraits. She also loved creating floral arrangements and giving them to family and friends. She enjoyed playing bingo, crocheting, and sewing. Throughout her life she enjoyed boating with Frank around the Boston Harbor Islands and in Florida where she would travel annually visit her sons.
Due to the COVID-19 virus restrictions, services were private. Donations can be made in Phyllis' name to Make a Wish Foundation or a charity of one's choice. The Connolly Family wishes to thank the staff at Seasons Hospice for their compassionate care during the last few weeks of her life.