Norma G. Glynn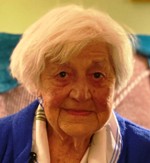 Norma Gloria (De Stefano) Glynn, of Milton, died Tuesday March 17, 2020.
She was born in Boston on June 8, 1923 to Domenic and Maria (Nutile) De Stefano. She grew up in Dorchester with her brothers Henry, Domenic (Dib), Robert and sisters Amalia (Alma), Nicoletta (Tetta) and Alba.
Norma was a graduate of Lasell Jr College and a dedicated employee at The Century Paper Company. Her career eventually took her to providing homes for many families in Milton when she began her life in real estate with Ann DeWolfe. Norma was a highly respected real estate professional for thirty years and loved her work.
Her love of music was fostered early in her life her while attending the opera with her family. She enjoyed playing popular songs on the piano and her favorite song was "Smile" sung by Judy Garland.
Norma will be remembered as a gracious and welcoming host to family, friends, and neighbors. She was always known to have food cooking on the stove and used meals to engage with those she loved. She was an exceptional cook learning from her mother as a child. She passed on her love of cooking to many and hosted countless holidays and celebrations in her home. Those who visited Norma's home would always leave with more food than when they arrived. In her later years, Norma spent time cooking, sharing stories and socializing with loved ones at her home.
She also had a special bond with her dedicated group of women who cared for her, Kerry, Olga, Meghan, Janice, Maggie, Lynn, MJ, Raquel and Maria that were always at her side.
She lived her faith as a devout Catholic with a special love for the Blessed Mother whose portraits adorned her home.
She is survived by two adoring children Susan (Glynn) Fallon of Belmont, and Frank Glynn of Quincy, their spouses Joseph Fallon and Ann Marie Glynn. Her grandchildren Elizabeth Fallon, Michael Fallon, Brendan Glynn, Shannon Glynn, Timothy Glynn and a large and loving extended family.
Norma requested that everyone know three things: She truly loved her family, she truly loved her friends and she really loved watching the movie "Animal House" (a film that was guaranteed to make her laugh).
Norma will be dearly missed by so many. She was a treasure of life. You will be loved forever Norma.
Until we meet again.
A private funeral Mass was held at St Elizabeth's Church in Milton on March 18, 2020.
In recognition of Norma's warmth and compassion please consider a contribution to a charity of your choice.