Lessie Vertelia Harris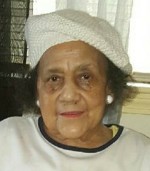 Lessie Vertelia Harris of Roxbury passed away on March 13, 2020.  Beloved wife of the late Roosevelt Harris.  Loving mother of Loretta, Vivian, Ronnie, Anita, Brett, Pamela, Stacey, Anthony, Patricia, Tasha and the late Kenneth and Roosevelt.  Sister of Jean McAden, Verline Williams , Lucinda Thornton and the late Patricia Tucker, Juanita Kinton, Andrew, Elise and Edward Thorton.  Sister in law of Elijah Kinton.  Cherished grandmother of 19 grandchildren and 7 great-grandchildren.
Lessie was born in Oxford,  North Carolina to the late Edward and Ophelia Thornton.  She was a loving and devoted wife and mother.  She raised her 12 Children in a home full of love and memories and laughter.  She enjoyed playing bingo, cooking for family gatherings and most of all spoiling her grandchildren.  Lessie will be missed by all who had the pleasure to have known her.
A private funeral will be held at Morning Star Baptist Church. A celebration of life is planned for a later date. Burial in Oak Lawn Cemetery.