Adrienne E. Boursiquot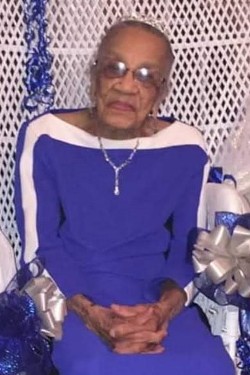 Our beloved mother and grandmother, Adrienne Elizabeth Boursiquot, passed away early Saturday morning on February 22, 2020 at Beth Israel Deaconess Hospital in Milton, MA, surrounded by family
Adrienne was lovingly referred to as Manman, Grandma or Great-grandma by her children, grandchildren and great-grandchildren, and as Manmi Adoue by extended family and friends. She was born in La Vallee de Jacmel, Haiti on January 22, 1916, the third child of nine children by her parents, Olivena and Alexandre Boursiquot.
Adrienne immigrated to the United States in 1973, where she remained a devout Catholic, and a woman of faith and prayer. She devoted her life to caring for and supporting her family, splitting her time between New York and Massachusetts. She was one of the strongest and most generous individuals. Her impact on this world is evident in the outpouring of love received by those she left behind.
Adrienne is survived by her sister, 4 children, 19 grandchildren, 31 great-grandchildren, and 9 great-great grandchildren, as well as a large number of extended family members and friends.
She was predeceased by her parents, 7 siblings, 1 child, 3 grandchildren and 1 great-grandchild.
A Mass of Christian Burial will be celebrated in St. Elizabeth Church, 350 Reedsdale Road, Milton, Saturday March 7 at 10:00am. Visiting hours at the Church from 8:30 am -10am. Burial will be in Haiti.