Susan E. Gallagher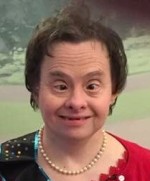 Susan E. Gallagher, 62, of Abington and Milton passed away February 15, 2020 surrounded by her loving family.
Born in Boston to the late John C. and Mary (Moloney) Gallagher, Susan was raised in Milton with her 5 siblings, graduating from Milton High School.  She was a member of ARC of the South Shore, Toastmasters, participated with Special Olympics and loved her time with the Friendship Club.  She worked for over 10 years as an assembler at Work, Inc.  Susan took joy in singing, dancing and performing.  Her radiant smile could express her love for family and friends.  Over these past four years while living in a group home with South Shore Support Services, Susan has had wonderful care, made extraordinary friends and cherished everything they did together.  A pleasure in everyone's life, she will be dearly missed.
Loving sister of Mary Connolly and her husband Thomas, John Gallagher and his wife Mary Alice and William Gallagher all of Milton, Janet Gallagher of Braintree and the late Ann Gallagher. Survived by 14 nieces and nephews and 21 great nieces and nephews. She was predeceased by her niece Meghan Gallagher.
A Mass of Christian Burial will be celebrated in Saint Elizabeth Church, 350 Reedsdale Road, Milton Friday, February 21 at 10:00 AM. Family and friends invited. Visiting hours at Dolan Funeral Home, 460 Granite Avenue, EAST MILTON SQUARE, Thursday 4-8 PM. Interment Milton Cemetery.
In lieu of flowers, donations in Susan's memory may be made to: Friendship Home, 458 Main Street, Norwell, MA 02061 or South Shore Support Services, PO Box 890126, Weymouth, MA 02189.