Richard Martell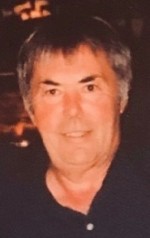 Richard Martell, of Quincy, died Saturday February 22, 2020.
Beloved father of Anthony Martell of Quincy. Son of the late Mary Saccoach Brother of the late Thomas J. Ciccio. He is also survived by several nieces, nephews and cousins.
A Mass of Christian Burial will be celebrated in Our Lady of Good Counsel Church, 237 Sea St., Quincy, Wednesday March 4 at 10:00 AM. Relatives and friends invited. Visiting hours omitted. Burial at a later date.